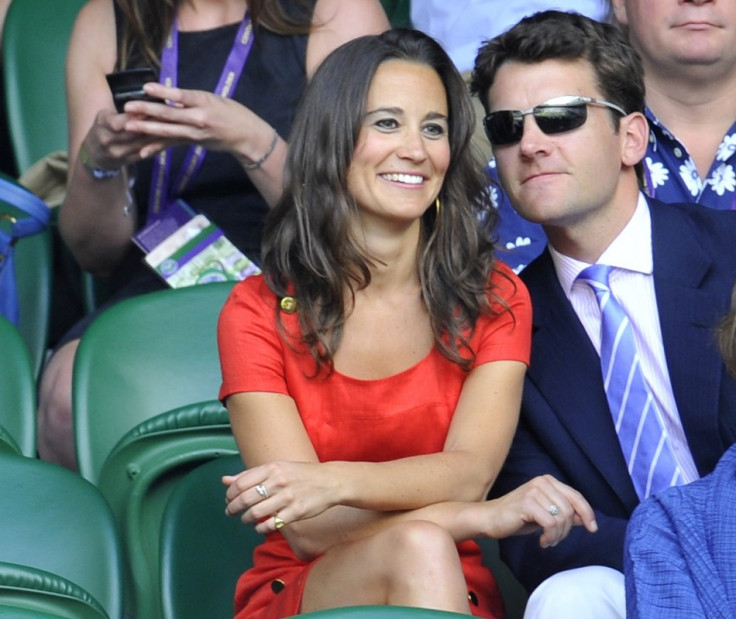 The on and off relationship of Alex Louden and Pippa Middleton looks back on after the pair were spotted yesterday at Wimbledon arriving hand in hand. The couple witnessed one of the most dramatic days of this year's championships as Roger Federer collapsed from two sets up to throw a semi-final place away to twelfth seed Jo-Wilfred Tsonga. The couple stayed after the epic encounter and were clearly in good spirits as they watched Andy Murray cruise into the semi-finals.
The Daily Mail said: "The Duchess of Cambridge's little sister dismissed the [relationship] rumours and proved that she is still with boyfriend Alex Loudon today."
The couple watched the two matches with Pippa's parents, Michael and Carol, were spotted holding hands, flirting and joking with one another all day. The couple were seated amongst the spectators, not in the royal box as some commentators had reported.
The move was clearly designed to stop rampant media speculation on their love lives. Rumours have been circulating that Pippa Middleton and Alex Louden had split after Pippa was seen in the company of other men after her sister's wedding in the spring. Pippa Middleton was pictured travelling to Madrid last month with her ex-boyfriend George Perry, 26, the son of the Duke of Northumberland. She was also pictured with her ex at the Queens Club three weeks ago, fuelling speculation that her and Louden had split.
However, after yesterday's displays of affection it would seem that the couple are very much back on. Louden and Middleton has been dating for around one year but post wedding it was reported that their relationship had bowed over. The couple reportedly split after the intense media attention become too much for Alex Louden but it now it seems the ex-cricketer turned businessman has decided to embrace his girlfriend's new found stardom.
It would seemingly bring an end to the speculation that Price Harry and Pippa Middleton are set to become an item. Reports yesterday claim that Harry is dating wealthy lingerie model Florence Brudenell-Bruce. A source told the The Sun, "It's very early days but Harry and Florence are an item. She is a lot of fun, blonde and very good-looking. Harry really likes her."