An off-duty police officer and paramedic were sprayed in the face with an unknown substance after they stopped to help people in a burning car.
The two emergency workers had been driving along the M11 near Chigwell, Essex on Friday evening (28 July) when they saw the car alight by the side of the road.
The stolen vehicle had been in a serious collision with a lorry shortly before 7pm, with video footage of the scene showing debris strewn across the motorway and the car crumpled in a heap of twisted metal.
Police say the thieves managed to free themselves from the wreck, and then sprayed an "unknown substance" in the faces of the two off-duty emergency workers.
They then stole another motorist's white Vauxhall Astra and fled the scene. The car was later found dumped in Dagenham, east London.
It is not believed the victims will suffer any long term effects from the spray, detectives said. The lorry driver involved in the collision was also uninjured.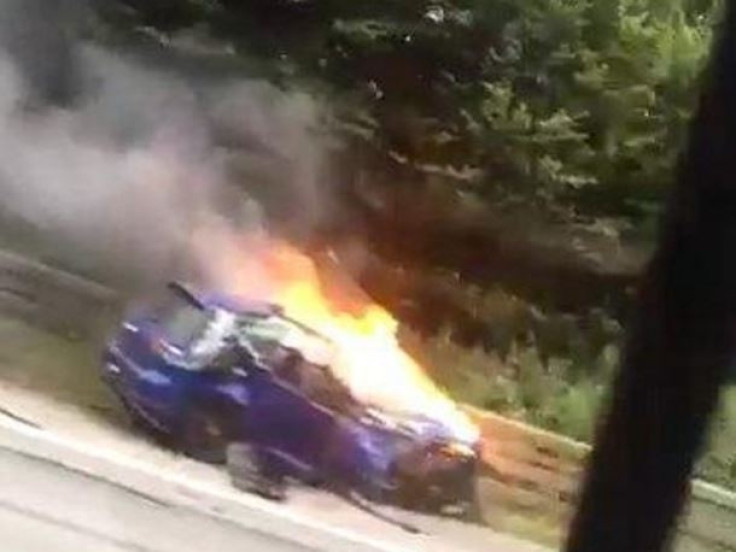 Essex Police are still searching for the suspects.
One is described as Asian, between 25 to 30 years old, with a dark beard and wearing a baseball cap, navy blue buttoned top, and dark-coloured bottoms. He also had with him a small, black leather bag.
Another suspect was described as white, between 20 and 25 years old, with short, dark hair. He was wearing a khaki-coloured jumper and jogging bottoms.
Detectives have widened their investigation to include another incident that occurred moments before the crash.
At around 6.50pm, police were alerted that two men had stolen a blue VW Golf from outside a shop in Queens Road, Buckhurst Hill.
The victim, a man in his 20s, reported that one of the men held a knife in his hand.
No verbal or physical threats were issued, but upon seeing the knife, he ran from the scene.
The two suspects drove away in the victim's car. They are believed to be linked to the carjackers who crashed on the motorway.
The vehicle has not been recovered.
Chief Supt Luke Collison, of Essex Police, said: "This was an shocking incident, and we have launched a significant investigation to track down the suspects and bring them to justice .
"Last night, good Samaritans who witnessed a serious collision stopped to provide urgent medical care, and were met by two dangerous offenders and seriously assaulted.
"Included in the group who stopped, were two off duty members of our emergency services. We are thankful that their injuries are not worse and that no other members of the public were seriously harmed.
"Our detectives in Loughton are executing numerous of lines of enquiry and I ask that anyone with information gets in touch with them via 101 or anonymously via Crimestoppers."
---
Detectives at Loughton CID can be reached via 101 or Crimestoppers anonymously on 0800 555 111.