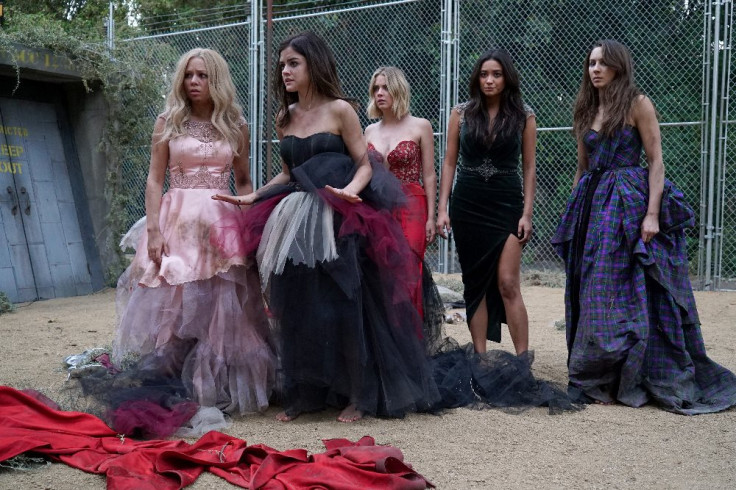 Pretty Little Liars season 6 will finally reveal the real face behind the mask and hood. As of now, fans knows that the tormentor of the pretty liars, Aria, Hanna, Emily and Spencer is Charles but the face behind Rosewood's serial killer is yet to be revealed.
Charles' sick games will take darker turn after he learns about the girl's failed effort to escape from the dollhouse. The masked villain turns evil and let the girls freeze in rain and cold before letting them in again.
Toby, Ezra and Caleb, meanwhile, are trying their best to locate their friends and from the promo it appears Alison might be the first to visit the creepy cage created by 'A' wearing that infamous yellow top.
She may play an important role in order to free her 'friends' from Charles. The girls, on the other hand, will eventually escape the whole ordeal after which they will try to sort out the puzzle pieces together in order to understand why Charles is holding a grudge against them but is sparing Ali in every way possible.
The premiere episode will not only reveal A and his cruel intentions, but fans may finally see some love blossoming again between Aria and her former teacher.
In the previous season the couple almost broke up and walked their different ways but show creator Marlene King has teased that the ongoing life and death situation will bring back the ex-lovers on their love track all over again.
"Some beautiful moments [coming] for Ezria," the showrunner teased on Tuesday.
This has sparked speculations that fans may be able to see a wedding between their favorite couple of PLL.
"I would say it's complicated," King told TV Line. "Just when you think it's over, a huge event like this can create a seismic shift, and you have to look at this person again and think, 'Should we go our separate ways, or is the universe telling us we need to be together?' The universe sends them some messages that are really mixed."
ABC Family released season six's photos, a promotional clip and an episode synopsis of its premiere episode, providing a glimpse into what fans can expect.
Season 6 premiere will pick up right for the finale of season 5, where the girls find themselves in the courtyard which was surrounded by an electric fence. The finale ended with the girls in a hopeless situation.
Pretty Little Liars Season 6 airs on June 2 at 8pm EST on ABC Family.