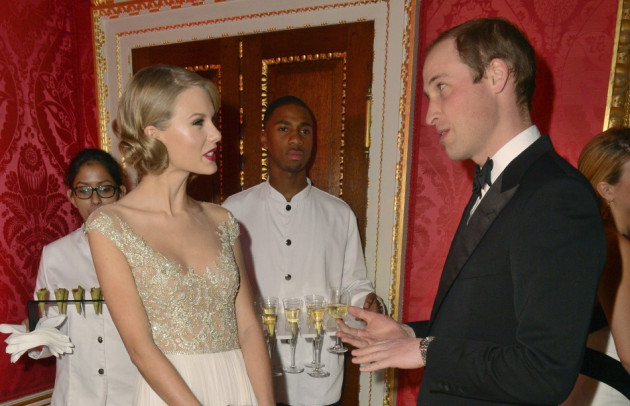 Taylor Swift looked every inch the pop princess as she rubbed shoulders with real life Prince Charming, the Duke of Cambridge, Prince William.
The 23-year-old Love Story singer met the Prince at the Winter Whites Gala charity dinner at Kensington Palace this evening (26 November). The event was held to raise money for Centrepoint, who provide housing and support to young homeless people in the U.K.
With a Doctor Zhivago-themed marquee, the palace grounds were transformed into a winter wonderland and even in freezing temperatures, the stunning singer managed to melt hearts.
Dressed in a full, white skirt with a plunging, gold laced bodice and with her blonde locks tied up in a classic chignon style, Swift looked every inch pop royalty.
While the "I Knew You Were Trouble" singer's much publicised quest to find a Prince Charming of her own has so far fallen flat, she was all smiles in the company of the young royal, who attended the event without wife Kate Middleton.
Recounting her meeting with the Prince ahead of her performance Taylor told ITN: "He's very funny. Really cool. It's awesome because when you see someone from afar and you respect the way they carry themselves and then you find out that they're funny. That's a whole,cool, different, exciting realisation. I really respect Prince William."
Speaking about the work of Centrepoint Swift added: "All the aspects of tonight seemed wonderful to me. The fact that this is highlighting a charity that focuses on teens from 16 to their mid 20's who are homeless. I think that is an amazing thing to draw focus on and attention to."
Taylor jetted into the UK to perform for the 200 guests at the palace, straight after winning four of the top prizes at the American Music Awards in Los Angeles on Sunday night (24 November) .
Also attending were British singers James Blunt and Eliza Doolittle, as well as 51-year-old rocker Jon Bon Jovi, who was honoured for his charity work.
Prince William has been a patron of the organization since September 2005.