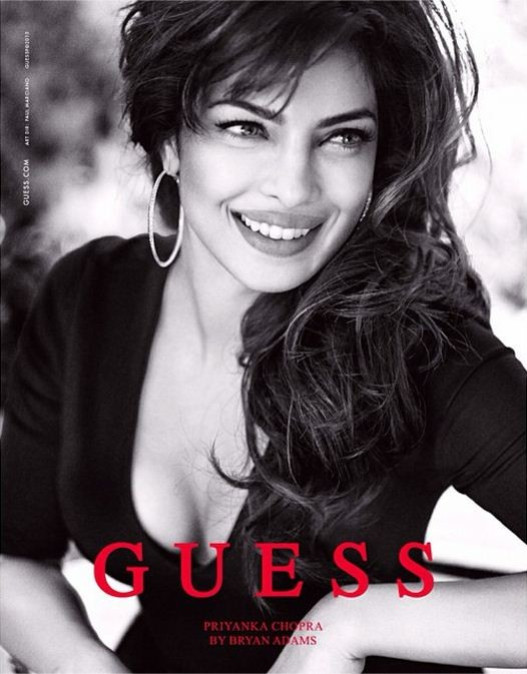 Bollywood actress Priyanka Chopra has been announced the new face of American clothing line brand, Guess, in what has been called a historic change in the brand's ad campaigns.
"We're so excited to announce our gorgeous new #GUESSGirl @priyankachopra," the poular brand wrote on Twitter.
A former Miss World, Priyanka Chopra is the first Indian as well as the first South Asian Guess Girl, a title earlier held by celebrities such as Paris Hilton, Drew Barrymore, Kate Upton, Claudia Schiffer, Adriana Lima and Alessandra Ambrosio.
The 31-year-old actress is also the first non-white model for the brand's new ad campaign, which was shot by rock singer and photographer, Bryan Adams.
Adams' black and white photo shoot shows Chopra posing at a Mediterranean villa. She looks glamorous in the brand's form-fitting dresses as her voluminous hairdo only ups her glam quotient.
Priyanka Chopra, who won critical acclamation for playing an autistic girl in 2012 Indian romantic comedy-drama film, Barfi, puts up a mesmerising gesture in the photos, flaunting her wrist's tattoo that reads: "Daddy's lil girl."
"I'm so proud to be the next #GuessGirl.It's a legacy of beauty for 30 years..Thank u @bryanadams and @GUESS for making this such a fab shoot," the actress wrote on Twitter.
Priyanka Chopra, who is also a singer, said she felt honoured to be the face of Guess.
"Being the next Guess girl was something that I would have never thought of, but when I met Paul [Marciano, Guess creative director], he was like, 'You're it. It has to be you.' I'm like their first brown model," she told WWD.
"For a global fashion brand, for them to move their campaign into a global space, for me it's an honour," the onetime winner of the National Film Award for Best Actress for her 2008 film, Fashion, said.
Check out the photos of Priyanka Chopra from Guess' ad campaign here.