With more than £115bn sitting in the bank, claims are swirling that Apple is ploughing its vast cash pile into a huge new project - creating an electric, self-driving car to rival Tesla.
Apple could simply buy Tesla - several times over, in fact - but multiple sources familiar with the company's plans state the iPhone maker is going its own way and creating a vehicle from scratch.
Already a year in the making
Almost a year ago, Apple CEO Tim Cook gave the green light for design vice president Steve Zadesky to lead a group of up to 1,000 employees from different parts of the company, sources of the Wall Street Journal claim.
Zadesky worked as an engineer at Ford between 1996 and 1999, before joining Apple, where he helped create the iPod and iPhone. Last year, Apple hired Marc Newson, an industrial designer, close friend of Apple's head of design Jony Ive, and the creator of a 1999 Ford concept car, the 021C.
Apple's board of directors contains several car enthusiasts, including Bentley- and Aston Martin-owning Ive, Newson, and Eddy Cue, who is head of internet software and services, and serves on the board of Ferrari.
Project Titan
The car project is known internally at Apple as Titan, and is based a few miles away from the company's global headquarters in Cupertino, California. A lab acting as home for Titan was set up last year, shortly after the new iPhone 6 and Apple Watch were announced, the Financial Times reports.
Aside from Silicon Valley neighbours Tesla, the area isn't known as a hotbed for automotive companies - but that doesn't seem to bother Apple, as an insider told Reuters: "They don't appear to want a lot of help from car makers."
However, the company is gathering advice on parts and production methods, with a focus on all-electric and autonomous, self-driving vehicles which are connected to the internet. The auto industry source added: "Fully automated driving is an evolution. Car makers will slowly build the market for autonomous cars by first releasing connected and partially autonomous cars. Apple is interested in all the potential ways you can evolve the car, that includes autonomous driving."
At first dismissed as research into CarPlay, Apple's software link between cars and iPhones, the project is becoming evermore believable, as Apple has hired a number of automotive designers and vehicle dynamics engineers. This, plus the seniority of Apple executives involved, suggests Titan is more than just a software service, claims the FT.
A source of the newspaper "who has worked closely with Apple for many years" said: "Three months ago I would have said it was CarPlay. Today I think it's a car."
Bryan Chaffin, co-founder of Apple news site The Mac Observer, said he has recently learnt that "a lot of people at the top in Silicon Valley consider it a given that Apple is working on a car."
Chaffin adds that, when asking one source for a percentage chance that Apple is "working on an actual car, rather than some kind of car-related technology," he was told "80%".
Key to our future
Apple states it refuses to comment on "rumours and speculation," but in early February Cook told a Goldman Sachs technology conference that automotives will play an important part of the company's future. Along with HealthKit and HomeKit, Cook said the CarPlay platform is "key to our future."
Partners committed to integrating Apple's software into their cars include Ferrari, Daimler Mercedes-Benz, Volvo and Volkswagen.
Giving Tesla a run for its money
Project Titan has already caused a number of Tesla employees to "jump ship" to work at Apple, according to an email claiming to be from an Apple employee. Sent to Business Insider, the email said: "Apple's latest project is too exciting to pass up. I think it will change the landscape and give Tesla a run for its money."
According to LinkedIn, Apple currently has 50 employees who used to work at Tesla, many of which were engineers who interned at Elon Musk's electric car company and specialise in mechanics, manufacturing and robotics. Bloomberg claims Apple has tried to lure Tesla staff away with $250,000 (£160,000) signing bonuses and 60% salary increases.
But the flow of talent runs in both directions, as according to the same report Tesla has hired at least 150 people from Apple in recent years.
Mysterious van
All of this comes in the wake of a mysterious van spotted driving around San Francisco. The van, a Dodge Caravan, is currently being leased to Apple and appears to be kitted out with autonomous driving equipment, including roof-mounted cameras and sensors.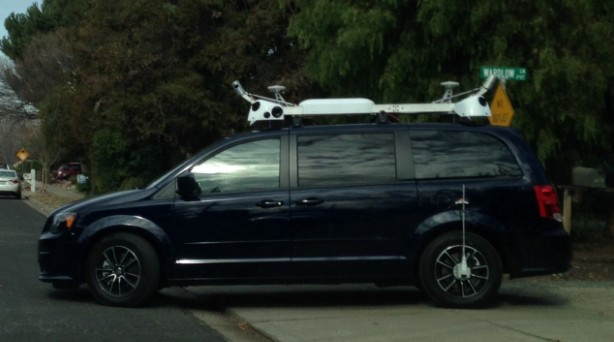 It was first believed the van formed part of Apple's mapping efforts, and was possibly a tool to create a rival to Google's Street View application. But now this seems unlikely. Technology analyst Rob Enderle told a local CBS news bureau that the cameras suggest this is a self-driving test vehicle and not used for mapping.
"Too many cameras," Enderle said. "It has cameras that are angled down at all four corner of the vehicle."
Although Apple does not have a permit to test self-driving vehicles, Enderle said it could be working in a partnership with a company which does.
A source familiar with the project told the WSJ that Titan is initially working on the design of a vehicle resembling a minivan, although it is common for car manufacturers to retrofit equipment onto existing cars to create development vehicles known as mules.