Kate Middleton and Princes William and Harry and Charles have revealed their close bonding with Queen Elizabeth II in a new video. The documentary has been shot to honour the Queen on her 90th birthday.
The two-hour landmark programme titled The Queen at Ninety will be broadcast on 27 March at 8pm at ITV, according to Kensington Palace. The video will also be the Duchess of Cambridge's first TV interview since her engagement to Prince William, the palace said.
In the documentary, the royal family members speak of their ardent relationship with the Queen, who turns 90 on 21 April. Kate Middleton talks about how the Queen was "thrilled" to know about the birth of a girl, Kate's daughter Princess Charlotte, and that Prince George calls his great-grandmother "Gan-Gan".
The Duchess also says that the Queen loves and cares for the royal family and has been a constant support to her. "She [the Queen] always leaves a little gift or something in their [George and Charlotte's] room when we go and stay, and that just shows her love for her family," Kate, 34, says.
She adds: "She's [the Queen] been very generous in not being forceful at all and in any of her views, but I feel she's been there, a gentle guidance really for me."
Kate's husband and the Queen's eldest grandson Prince William says that growing up with his granny around was "incredible" as she gave him a sense of protection and let him carve his own path.
"Growing up, having this figurehead, having this stability above me has been incredible," William, 33, says. "I have been able to explore, understand, slightly carve my own path. I greatly appreciate and value that protection."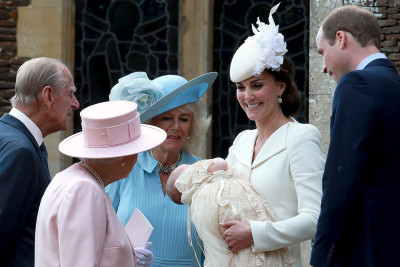 William's younger brother Prince Harry says: "I have been asking her for years what her secret is, but she won't tell me." He praises his grandmother, the longest ever serving monarch, for her dedication in serving the nation since a tender age of 21.
"It's just incredible to know that someone at that age appreciated and understood exactly what was expected of them and to basically put duty ahead of everything else so early on in her life is quite remarkable," says the 31-year-old prince.
The Queen's son and the heir to the throne, Prince Charles says: "I said to my mother the other day, 'Do you realize that when you reach 90, I shall have known you for 68 years?' She had to laugh a little bit."
"When you think that all these years the Queen has been on throne, that in itself is a huge achievement, coping with so many different challenges and complications and always being there really in that remarkable way – steadfast," he adds.