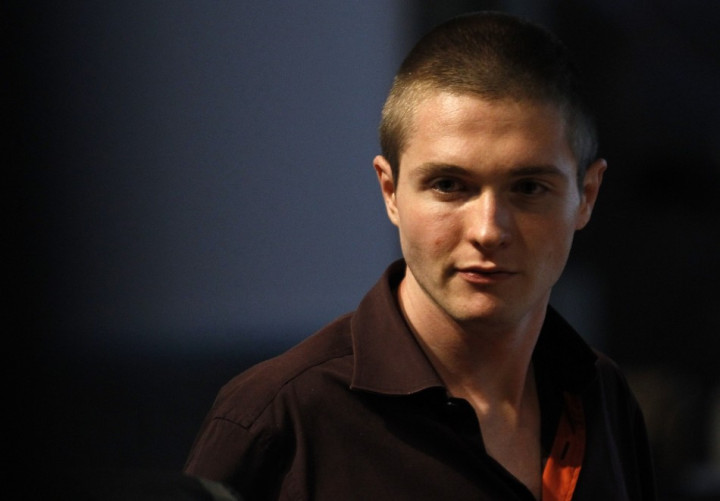 Meredith Kercher's murder retrial is to proceed without both its main protagonists, as Amanda Knox's ex-boyfriend has said he will not attend the first hearings but watch Italian prosecutors make the case against him from a secret location overseas.
Raffaele Sollecito spoke exclusively to IBTimes UK after revealing that, like Knox, he will not be returning to Italy for a re-run of the murder case.
Sollecito, 29, denied he was hiding from justice and reached out to the family of the British student he is jointly accused of killing, pleading with them to talk to him.
"I can understand their suffering" Sollecito told our reporter, referring to the Kercher family. "But on the other side I'm begging them to find out that I'm open to dialogue."
Kercher, 21, from Croydon, south London, was found with her throat slashed inside the apartment she shared with Knox, 26, in the university town of Perugia, central Italy, on 1 November 2007.
Prosecutors alleged she was killed by Knox, Sollecito and a young drifter from the Ivory Coast, Rudy Guede, because she had refused to take part in a brutal sex game.
The Kerchers have never accepted Sollecito and Knox's claims of innocence and, in March, welcomed a decision by Italy's top court to order a retrial.
"They should look at the real facts and not at what prosecution says," Sollecito argues. "They are stuck at the prosecution theory even if the reality is completely different."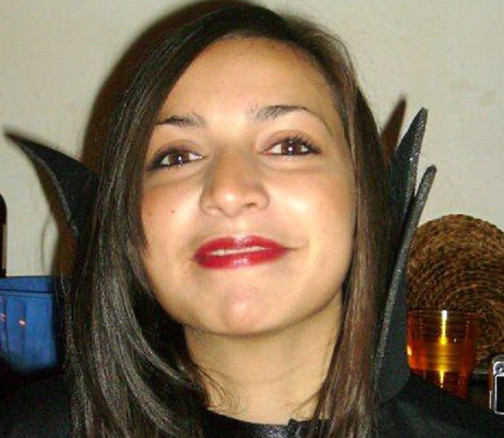 'I'm not running away'
Knox and Sollecito had started dating only a few days before the murder that changed their lives forever.
The pair were arrested shortly after Meredith's body was found in a pool of blood in her room and they were sentenced to 26 and 25 years respectively in 2009.
They were later acquitted after an appeal, but in March, Italy's highest court overturned the verdicts and ordered a new trial.
"It's a never-ending nightmare," Sollecito laments. "You can't be tranquil, you can't sleep well, you can't just move on with your normal life when you have this burden on your shoulders that seems to never to have a solution, an ending."
On her release Knox flew back to her hometown of Seattle and has ruled out coming back for cross-examination.
Sollecito was expected to be in court for the first hearing on 22 September, but has since flown to an undisclosed location. "I don't think I will come for the first hearings," he told IBTimes UK.
He claims the move has nothing to do with the looming trial, maintaining he is "not running away".
"I'm not hiding anywhere," he says. "I have my Italian passport. I'm travelling with my identity. I'm exposed to any decision from the Interpol and Italian authorities. Saying that I'm hiding is just ridiculous."
Sollecito will eventually go back to Italy when the trial enters its crucial stages.
He is keeping his movements out of the public eye because unwanted press attention threatens the success of some projects he is currently working on.
Sollecito had earlier tried to settle in Lugano, Switzerland and set up a company to produice movie screenplays, but Swiss authorities eventually kicked him out because he failed to disclose details of the murder charges.
'I was framed and had my life destroyed'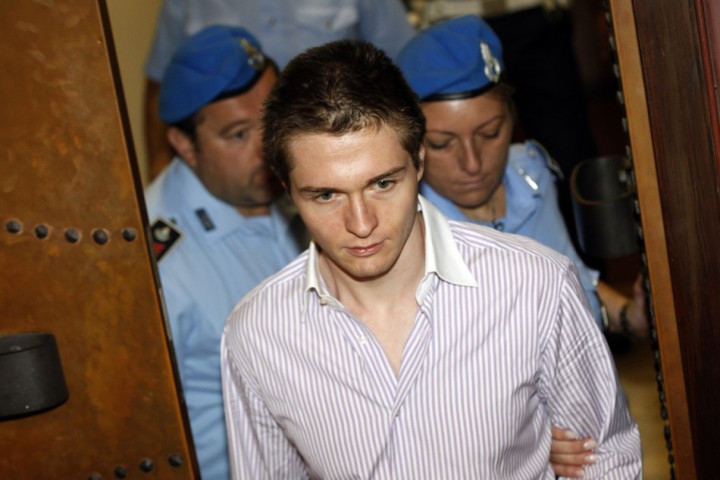 Sollecito's voice is filled with resentment and anguish as he speaks about his "ordeal".
"They've already destroyed my life once," he says about prosecutors.
He claims Perugia investigators exploited his naivety as a student and his trust in authorities - his elder sister was a member of Italy's military police, the Carabinieri - to frame him.
He believes that, pressured by global attention over the case, investigators zeroed in on him and Amanda as the easiest scapegoats.
"Police made a lot of mistakes along the way," Sollecito states. "For instance I've been arrested over clues that did not exist at all."
A shoe print and a murder weapon that were initially linked to him later proved to be inadmissible evidence, he says.
"Detectives didn't admit their mistakes," Sollecito recollects. "Along the way they constructed new evidence to frame me and hold me in prison."
"They just kept going all over the years. There is no evidence at all that connects me to the murder. I'm innocent, I can tell that, but more than my words the real facts prove my innocence."
Amanda and I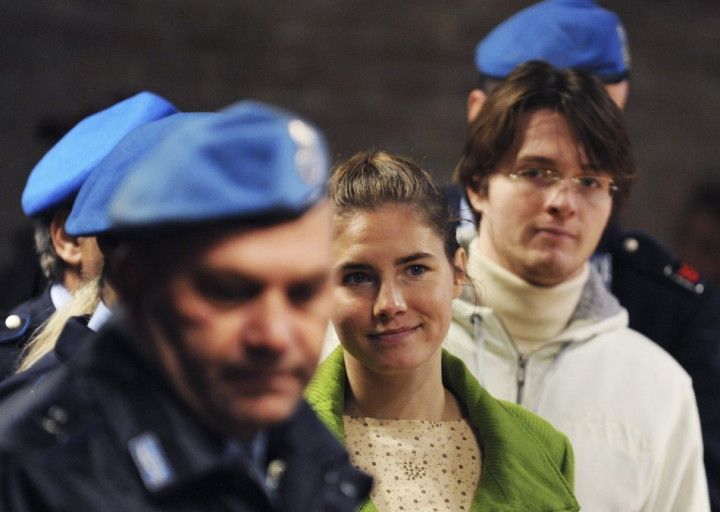 He claims he was pressured to change his evidence and frame Knox in exchange for a reduced sentence but he refused. "It was the right thing to do," he concludes.
He knows she is innocent because the night Meredith was killed they were together at his house.
Sollecito describes the prosecution case of a sex orgy gone wrong, and the characterisation of Knox as a 'She-Devil', as detached from reality.
"[Prosecutors assumed] that Amanda and I had a very bad personality with a lot of darkness inside but that's just stupid, it's an assumption without any basis and a twisting of the real world," he alleges.
Amanda had an expansive character that made her appear as a girl with few inhibitions, but was instead "shy and bumbling" in private moments with him, Sollecito explains.
"At the time, Amanda was very defenceless; she trusted everybody; she was [like] a little girl, in emotion, in love, in everything."
The two are still in touch and have met a few times after their release, although there is no romance, he said.
Sollecito often says he doesn't regret meeting her; the only thing he regrets is not getting a lawyer immediately.
Inside the darkness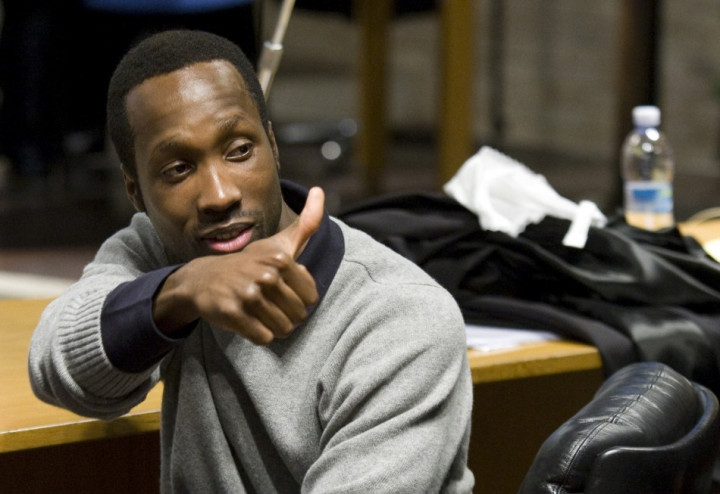 In an interview with Italian magazine Oggi, Knox said she would be at peace if prosecutors simply apologised for their alleged mistakes.
Sollecito is less-forgiving. "I want an explanation," he demands.
The 29-year-old is particularity enraged at police wire-tapping of some of his family members and some offensive comments he says police wrote on the transcripts of the recordings.
"They made comments on the tapes [related] to my aunt and stepmother saying 'this snake' or 'this s**t,'" he said. "They took everything very personally. They offended my family with no reason at all."
He also blames authorities for the different treatment meted out to him and Knox compared to the other suspect, Guede.
"They always protected him," Sollecito says accusingly. "All he did was maintain the building of the prosecution case, not saying that we were over there [at the murder scene] but not excluding it.
"He took the way in the middle strategically not to upset detectives."
Guede was given a 16-year sentence at the end of a separate trial and is serving his sentence in Viterbo jail, near Rome.
Six years of legal expenses has left Sollecito and his family "overwhelmed" by debts. "We are in a difficult situation," he says ruefully.
In June he appealed online for cash to pay his legal bills and has so far raised more than $21,000 (£13,000). The profits from the sales of his memoir, Honour Bound, also went towards his defence.
Sollecito is two exams away from completing a masters degree in software engineering but a normal life seems miles away before he faces yet another trial.
"I'm just inside the darkness right now and I'm trying to find the light. I know it is somewhere out there but I'm still struggling to find where it is," he sighs. "Everything is so foggy, so dark."