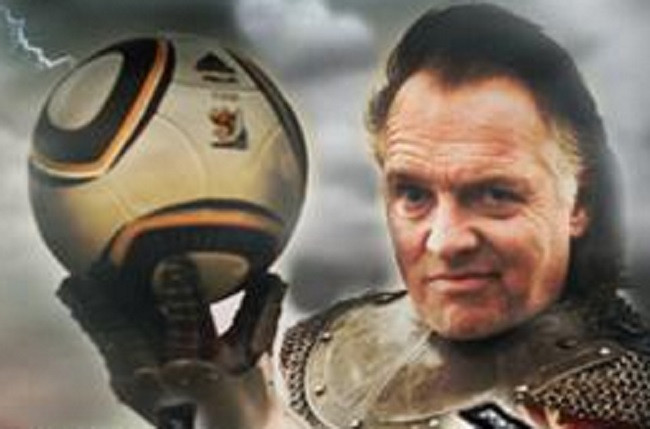 A campaign has been launched to get late comic legend Rik Mayall's track Noble England to become the official World Cup song.
The video which has attracted 310,500 views, stars Mayall in traditional Henry V costume inspiring footballers using extracts from Shakespeare to bring England glory, set to catchy lyrics "Come on you England, you noble Englishmen".
It finishes with the players holding the trophy while Mayall, poignantly, is seen disappearing into a shroud of light, with an English flag draped over his shoulders.
"I am the lovechild of Britannia and St George," Mayall said on the track's release, which was not used as the 2010 official World Cup song. James Corden's 'Shout' along with Dizzee Rascal became the official song instead.
"That is why they gave birth to me, so that I could release this single.
"I'm doing my bit, just like every other Englishman, as we stand shoulder-to-shoulder, doing out bit, stiff upper lip – apart from when you're screaming out the lyrics to 'Noble England'."
The Facebook campaign for the track to reach number one is being spearheaded by DJ Jon Morter.
He was nicknamed the 'charts hijacker' when he successfully campaigned for Rage Against the Machine's "Killing in the Name" to reach the Christmas no 1 spot instead of X-Factor winner Joe McElderry in protest at Simon Cowell's commercial juggernaut.
So far his dedicated Facebook page to relaunch Mayall's Noble England has gained more than 4,000 likes following the tragic news of the star's sudden death.
He told the Evening Standard: "It would be a great thing for Rik's memory. He was a comedy legend. Rage Against the Machine was more of a protest whereas this campaign seems to be a way of displaying respect.
"It's a cruel irony that on the eve of the World Cup we have lost him. It's now time for everyone to wake up to this fantastic song."
Gary Barlow's Greatest Day, which featured 20 other celebrities was quietly dropped as the official World Cup song for 2014 in the wake of his tax avoidance scandal.