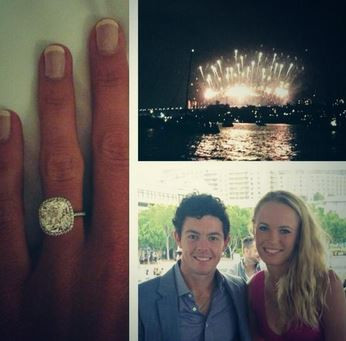 Tennis star Caroline Wozniacki and golfer Rory McIlroy are engaged.
The two-time major golf champion and former women's tennis world number one announced their engagement on Twitter.
"Happy New Year everyone! I have a feeling it's going to be a great year!! My first victory of 2014 #shesaidyes!!" McIlroy tweeted, along with a picture of them both. The image also showed New Year's fireworks exploding above the Sydney Harbour Bridge.
Wozniacki posted: "Rory and I started 2014 with a bang! ... I said YES!!!!"
Both are believed to have first met at the World Heavyweight title boxing match between David Haye and Wladimir Klitschko in Hamburg on 2 July 2011.
McIlroy, had previously revealed that he dislikes speaking on his relationship with Wozniacki publically.
"I don't care what people say about my golf," he said, "It's when people start digging into my personal life, that's where it starts to annoy you — whether it's Caroline, whether it's management, all that stuff shouldn't be a consequence to how I play my golf."
Reports that the pair had allegedly ended their relationship appeared after the Danish tennis star posted a picture on Twitter showing McIlroy fast asleep and open-mouthed with his glasses on.
In December 2012, the two were forced to deny rumours they were engaged after Wozniacki was spotted wearing a huge diamond ring on her wedding ring finger. Speculation first began when she was spotted flashing the diamond and sapphire jewel as she arrived at the Brisbane International Airport.