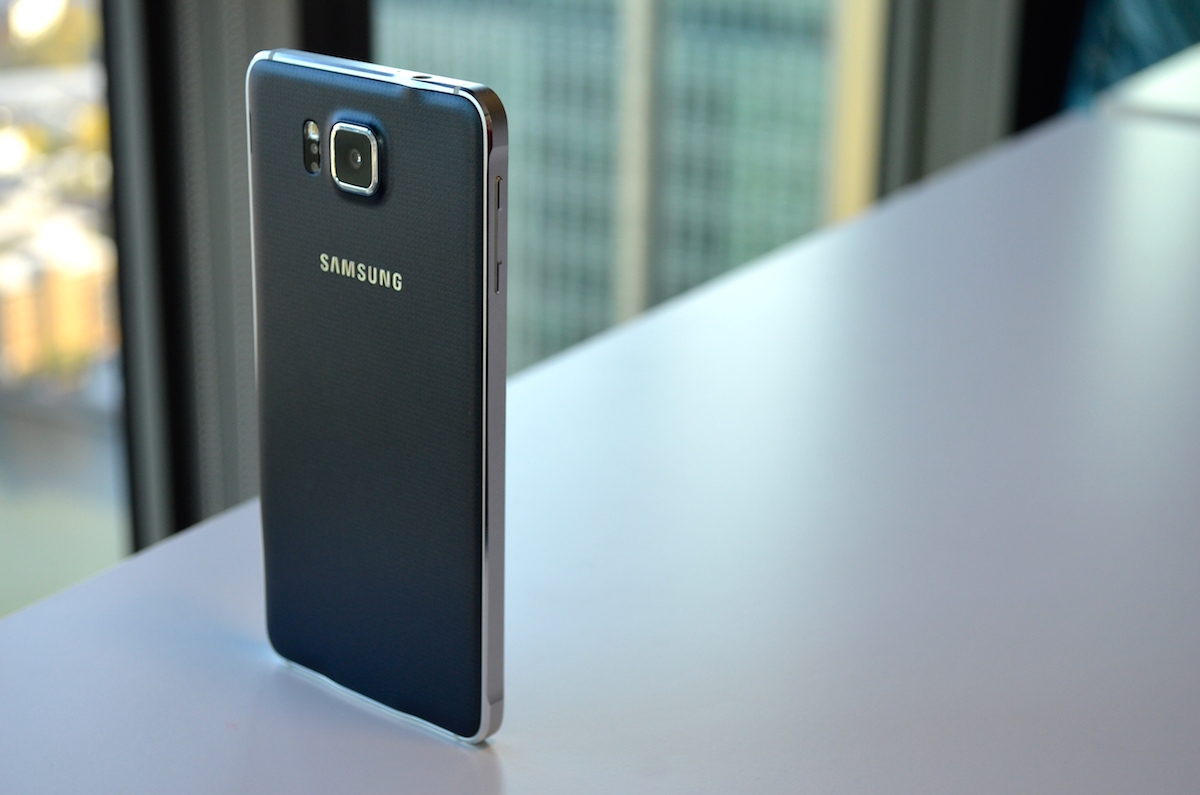 Samsung Galaxy Alpha Key Features:
New metal design.
Heart-rate monitor.
Android 4.4 (KitKat).
13 megapixel camera.
4.7in screen (1280 x 720).
132.4 x 65.5 x 6.7mm.
Price as reviewed - £500.
The Galaxy Alpha is Samsung's first step in a new direction, one which puts design front and centre with an attractive aluminium chassis and pocket-friendly size.
Is this the start of a new chapter for Samsung, or is the Alpha's smart new suit merely a distraction from deeper problems?
---
Samsung Galaxy Alpha: Design
---
Design is everything for the Galaxy Alpha. Where Samsung has been widely accused of selling high-end phones with mid-range looks, the Alpha fixes much of those wrongs.
Its metal chassis has squared, chamfered edges like an iPhone 5s, it's beautifully thin and light, and Samsung has even trimmed the Galaxy S5's display down by half an inch to make it more comfortable in both your hand and pocket.

But all that shines is not actually metal. The rear cover is finished in a similar dimpled plastic as used by the Galaxy S5. It's slightly harder here, but a rubberised finish at least makes it feel gripable in your hand. I felt safe using the Alpha one-handed while stood on a busy train, and that could not be said of the super-slippery iPhone 6.
The Alpha's design is a huge step in the right direction for Samsung and we've already seen it mirrored in the equally new Galaxy Note 4. We can only hope that cheap-feeling fake chrome is a thing of the past.
---
Samsung Galaxy Alpha: Screen
---
So far so good, but Samsung hasn't been quite as generous when it comes to the Alpha's screen. At 4.7in it is arguably the perfect size - and conveniently matches the iPhone 6 - but the 720 x 1280 resolution at 312 pixels per inch is disappointing. Samsung should really have offered Full HD (1080 x 1920) because at times the interface looks rough around the edges.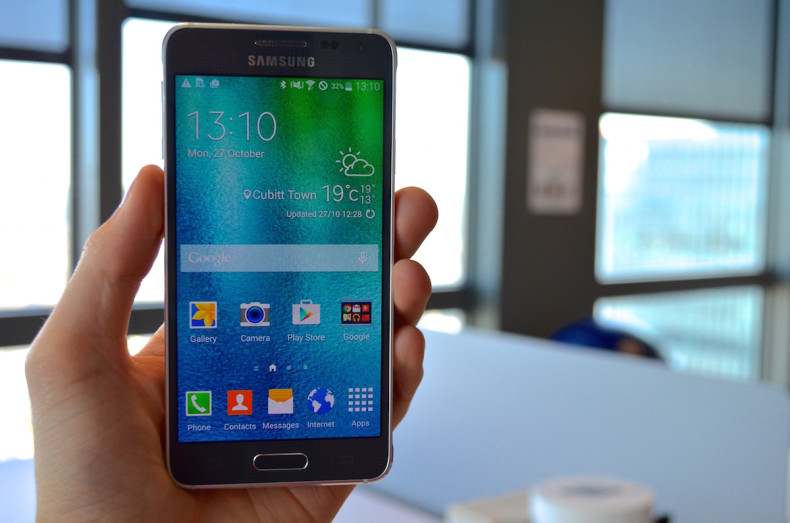 Round icons like that of Google Chrome aren't as smooth as on other handsets, while text also suffers from jagged edges as each square pixel can be seen. It isn't a deal breaker - the original iPad mini suffered a similar problem - but means the Alpha's screen doesn't quite live up to the high expectations set by Samsung's glitzy, high-end marketing campaign promoting it.
Ignoring pixel count, the Alpha's display is good; it's bright, responds quickly to touch, and is evenly lit. But, as with most recent Samsungs, its use of Super AMOLED technology means whites are displayed with a slightly blue tinge which is exaggerated when viewed off-centre.
---
Samsung Galaxy Alpha: Software and Performance
---
An eight-core processor made up of two quad-core chips clocked at 1.8GHz and 1.3GHz means the Galaxy Alpha can offer bags of performance, while also returning decent battery life. The handset's 2GB of RAM helps to keep everything running smoothly, and Samsung has continued work started with the Galaxy S5 earlier this year to make TouchWiz a simpler and more intuitive experience.
This means a simpler settings menu with some less-used options hidden away, and a clutter-free camera app, but there's still more the company could do to simplify the experience further.
S Health is the same as on the S5, which means it records your walking, jogging, running, and cycling, and can measure your heart rate with the rear-mounted monitor.
There's a fingerprint scanner on the home button to unlock the phone, and while it works most of the time I found it to be less reliable than the same feature on the iPhone 6 - that, and swiping your thumb over it rather than pressing against it feels less intuitive.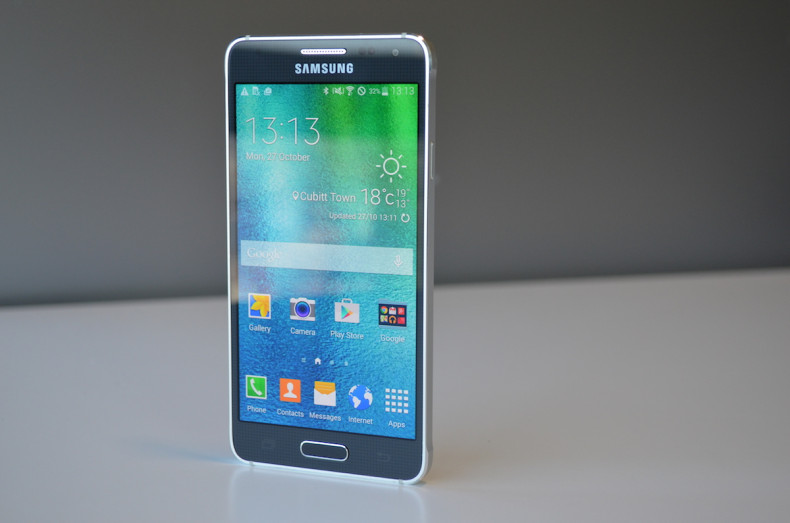 The Alpha's performance, however, I cannot fault. Apps open quickly, games play smoothly and multitasking between them is on par with the Galaxy S5. Battery life isn't quite up to the S5's standard though, but that's hardly surprising when you learn that it's a third smaller at 1860mAh.
A day of average use is fine, but where the S5 can wheeze through a second day, the Alpha will often be dead by mid-morning.
Should you find the phone running low, it has the same Ultra Power Saving mode as on the S5, which claims to stretch just 10% across 24 hours by switching the screen to black and white, and turning off most of the handset's features.
---
Samsung Galaxy Alpha: Camera
---
Fast, sharp, and simple to use, the Alpha's 13-megapixel (MP) camera performs very well and most users will struggle to spot the difference between images by this and the 16MP Galaxy S5.
The Alpha can record Full HD and even 4K Ultra HD video, has digital image stabilisation, and can take panoramic images.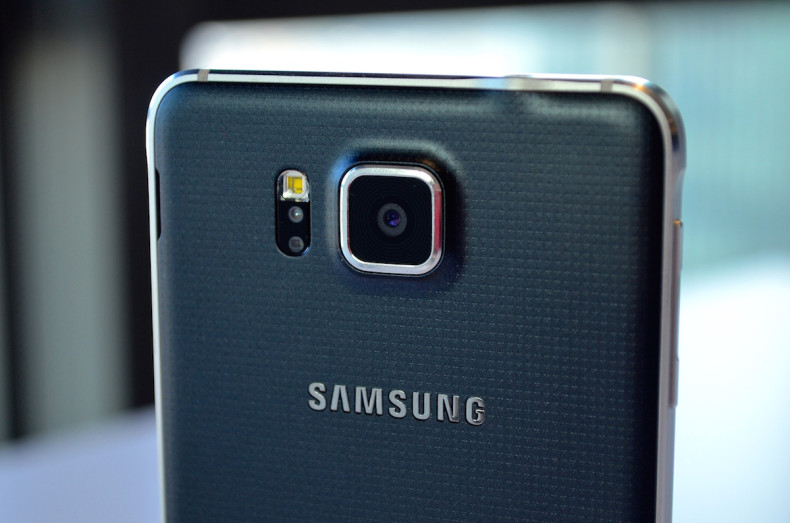 The front-facing camera is 2.1MP, a minor upgrade from the 2.0MP sensor in the S5, and it performs well. The slightly weird "Beauty Face" mode can be adjusted to smooth your skin and improve your complexion, if that's your thing.
---
Samsung Galaxy Alpha: Verdict
---
After years of cheap-feeling plastics and fake metal, Samsung needed to rethink its design. The Galaxy Alpha is a decent step in the right direction - I love the metal chassis and feel the size and weight are perfect - but I'm left wondering where the Alpha fits into Samsung's line-up.

Is it a replacement to the Galaxy S5? Is it above or below the S5? Will there be an Alpha 2, or will the Galaxy S6 take the Alpha's design and become the new flagship?
Samsung will hopefully answer these questions in the coming months - we expect a Galaxy S6 to arrive in February 2015 - but for now the Alpha is Samsung's best smartphone yet. Some aspects, like the display, feel deliberately compromised so not to impede on the S5, but as an example of the design we can expect from the company in the future, it's what we've been waiting for.
Samsung Galaxy Alpha Review Scores:
Screen: 6/10 - Perfect size, but quality is lacking and needs to be higher resolution.
Camera: 9/10 - Excellent hardware and intuitive, mostly gimmick-free software.
Software: 8/10 - TouchWiz is still too cluttered, but changes are going in the right direction.
Design: 9/10 - The perfect size and weight, with an attractive metal frame. If only the back felt more premium.
Build Quality: 9/10 - Much better than previous Samsungs, but sadly lacks waterproofing.
Overall: 8/10 - A breath of fresh air for Samsung, but a phone which feels it wasn't allowed to be better than the S5.
The Good:
Size and weight are both spot-on.
Attractive metal frame a welcome improvement.
Fast camera.
The Bad:
Screen isn't HD and lacks quality.
Plastic back cover could feel better.
Misses out on S5's waterproofing.