Samsung Galaxy S6 leaks showing metallic frame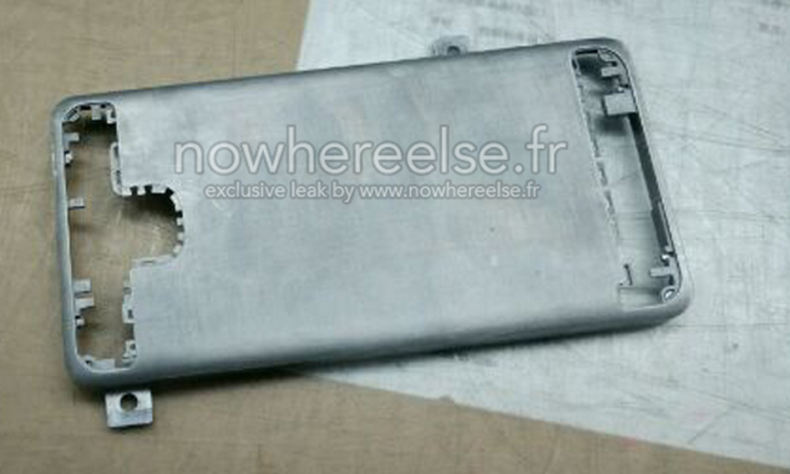 Samsung Galaxy S6 is rumoured to be launching here in Las Vegas during CES 2015, but we could have the first leaked image of Samsung's flagship smartphone for 2015.
An image published on French website Nowhere Else shows a smartphone which is reminiscent of Samsung's previous devices but crucially features what looks like a metallic unibody design, something Samsung has shied away from so far with its Galaxy S range.
The picture shows a smartphone chassis reminiscent of the iPhone or HTC's One smartphones which have been using a unibody design for years.
The source which sent Nowhere Else the leaked images could not confirm if this chassis would be used for the Galaxy S6, or for a more premium variant of the S6. Last year Samsung launched the Galaxy Alpha smartphone featuring a part-metallic design which was seen as the South Korean company's change of direction in terms of design towards a more premium feel for its high-end smartphones.
The leaked images show a central cutout on the rear for the camera unit as well as another cutout near the bottom of the rear cover which could be to facilitate better wireless coverage.
The leaked images show squared edges which seem to contradict the reports that the Galaxy S6 would featured a curved screen similar to the company's experimental Galaxy Note Edge.
Reports suggest that Samsung will be showing off early versions of the Galaxy S6 to certain media and partners in Las Vegas this weeks during the Consumer Electronics Show and with the company's CEO Boo-Keun Yoon delivering the opening keynote of the conference on Monday, we could get a glimpse at the new phone.
IBTimes UK is on the ground in Las Vegas and will be covering both Samsung's press conference and Yoon's keynote on Monday.