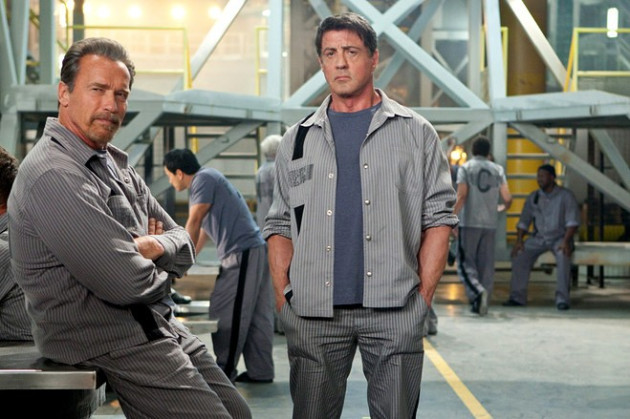 The first image of the Tomb, a forthcoming prison escape thriller featuring Hollywood's twin titans Arnold Schwarzenegger and Sylvester Stallone, has appeared online.
The shot, released by the Wall Street Journal, shows the two ageing action stars in grey overalls, trapped inside the eponymous Tomb - the world's most advanced and futuristic prison.
Stallone stars as Ray Breslin, a master of structural security and the man who designed the Tomb. When he is framed, he finds himself locked up in his most inescapable creation, and has to stage his own breakout.
Stallone's career has seen a real resurgence since the box-office success of 2008's Rambo and the Expendables in 2010. Schwarzenegger, fresh from his stint as governor of California, appears to be chomping at the bit to get back into acting, and is about to return to the big screen in The Expendables 2.
Cinema audiences appear to be revelling in a form of action nostalgia, showing an appetite for the sort of no-nonsense action films that proliferated in the eighties and nineties, but appear to have dried up over the last decade.
Joining Sly and Arnie in The Tomb are former football hard man Vinnie Jones, rapper 50 Cent and Full Metal Jacket's Vincent D'Onofrio.
Coincidentally, Schwarzenegger and Stallone found themselves side by side when they visited the same hospital for shoulder surgery. Unsurprising considering their ages - Stallone being 66 and Schwarzenegger 65.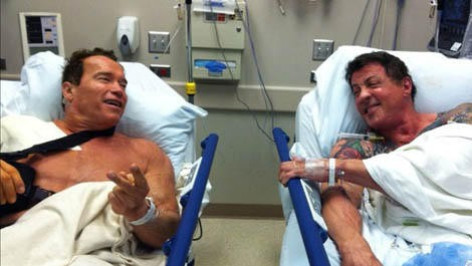 The Tomb has no set release date, but is expected in 2013.