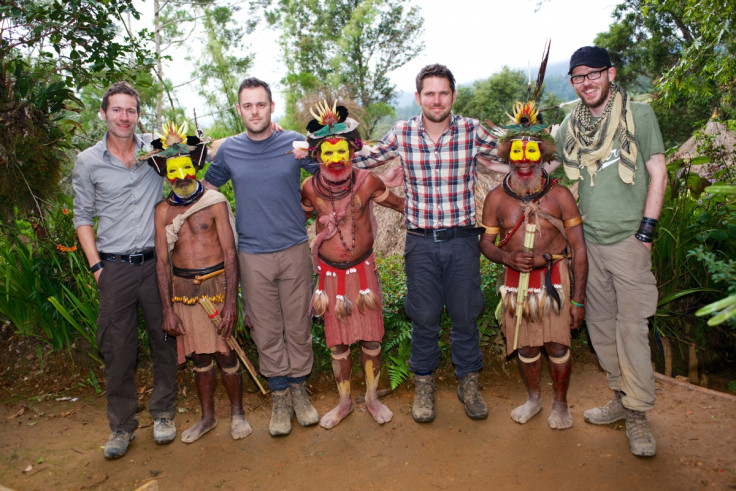 Scouting For Girls certainly have some classic singles under their belt but the band have promised fans that their forthcoming record is their best yet. The British group are preparing to release their fourth studio album, Still Thinking About You, which will be their first release under a new record label since their contract ended with Sony.
Members Roy Stride, Greg Churchouse and Peter Ellard have been working on new material over the last three years with their next LP finally set for release later in October 2015. Singer Stride remains confident that fans will embrace their new music, telling the IBTimes UK: "It's been as much fun as the first record because [with our first album] we had been unsigned for 10 years and suddenly got a record deal. A month [after cutting the songs] we were on the radio and the month after that we were in the top 10 [on the charts] and playing gigs."
He recalled: "The record sold a million but then there are time frames and pressure and people having opinions on songs. That happened with the last two records and then we had a greatest hits. [We spent] six years on Sony and had a four-album deal, which flew by. Suddenly, we didn't have a deal so we just made the record ourselves. It's our best album. It's a grown-up version of our first record."
Watch a clip of Scouting For Girls in Singing In The Rainforest:
The musicians are quick to admit that they had lost their way with their most recent albums due to interference from music executives. Stride explained: "Albums have definitely been compromised in the past where the record we were originally going to put out gets changed when people start getting in your ear. This [album] hasn't got that and it feels like an album. A proper body of work. We had no artistic interference from anybody so if this one sounds s**t, it's down to us. It's a nice place to be."
Over the past eight years, Scouting For Girls have collected a number-one album and four top-10 singles including the 2010 chart-topper This Ain't A Love Song. However, they have also expanded their catalogue by writing songs for other artists such as One Direction. Although the group have not contributed to
1D's upcoming fifth album
, Churchouse jokingly suggested that Stride join the boy band as their new member with
Zayn Malik quitting in March 2015
. Addressing their songwriting relationship with the young heart-throbs, Stride stated: "It's the other part of what we do [writing]."
Stepping out of their comfort zone, Scouting For Girls took on a challenge when they met the Huli Wigmen tribe in Papua New Guinea, an experience that will air in a new episode of Singing In The Rain. It was certainly an eye-opening experience that included a particularly terrifying encounter with some uninviting tribesmen.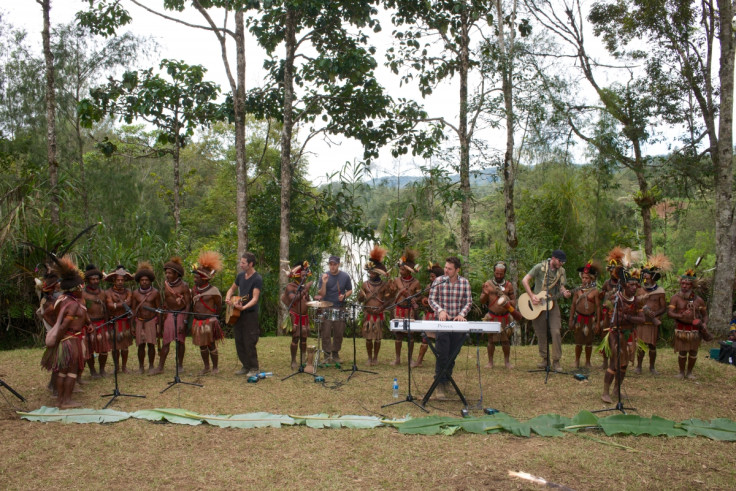 Stride recalls: "We stayed in a compound where we weren't allowed out for a few days. We walked to the tribe which was another half-a-day and, at one point, we tried to walk there via a bridge but ended up getting chased by another tribe whom we hadn't paid to cross the bridge. We got chased by machetes and guns. When we got to the actual tribe, it was lovely."
Summing up their experience, the singer said: "It was the most bizarre and extreme experience I think I've ever had."
Scouting For Girls appear on Singing In The Rainforest, Monday 5 October 2015 at 9pm on Watch. Their new album Still Thinking About You is released on 16 October 2015 on East West and the band tour the UK in November and December 2015.