New CCTV video footage has been released by prosecutors showing honeymoon murder suspect Shrien Dewani meeting hired killer Zola Tongo, on the morning after Anni Dewani was murdered.
The Bristol based businessman is accused of paying Tongo to murder his new bride, in a staged hijacking on November 13, 2010, during their honeymoon in Cape Town.
The video shows the two men in an area of the five-star Cape Grace hotel. Dewani is seen standing, while Tongo is seated on a couch.
At the time of the video, Dewani, 34 had not yet been informed that his wife's body had been found in an abandoned taxi, with a fatal gunshot wound to her neck, and was waiting for news from the police.
Dewani is seen nervously pacing the room with his phone in his hand. He is briefly seen speaking to a hotel cleaner polishing the window of a door. Tongo reported that Dewani asked the cleaner to give them 'some privacy'.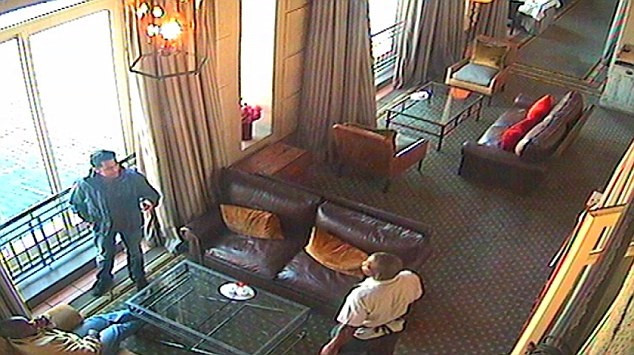 The men continue to talk for several minutes. Tongo told the court that during the conversation, Dewani repeatedly asked if the job "has been done", referring to the pre-arranged hit.
Tongo appears to warn Dewani of the presence of a security camera in the room and the 37-year-old is seen flinching and quickly moves towards the corner of the room, beneath the camera, before leaving the room.
He later returns to talk to Tongo, who claims that the wealthy businessman again asked for news as to whether the job has been a success.
Tongo claims he then warned Dewani that police officers were standing on the other side of the door.
Tongo, who was sentenced to 25 years in prison for his part in the killing, and two hit men - Mziwamadoda Qwabe and Xolile Mngeni - claim the businessman masterminded the plot to kill the Swedish engineer and promised to pay them £850 to kill his wife.
In a sensational twist in the case, Dewani's lawyers claimed the millionaire has been framed for the murder of his wife by the driver and two hit men, after a failed kidnap and ransom plan.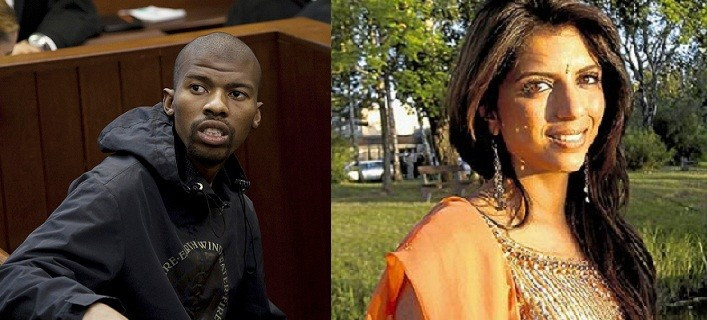 Dewani's senior lawyer Bernard Mitchell told the court a convicted murderer would be called as a witness to describe how while in prison, Zola Tongo boasted of making Dewani a scapegoat.
Tongo, allegedly told the 'lifer' that a plan to kidnap Mrs Dewani, 28, and demand a ransom from her wealthy husband ended in murder when one of her two kidnappers attempted to rape her.
Mitchell claimed that Tongo confessed to the plot when he and an inmate, known as Bino, occupied nearby cells in October 2011.
The inmate approached Dewani's lawyers with the confession when the businessman was fighting extradition to South Africa to face charges over his wife's death.
Dewani has pleaded not guilty to murder, kidnap, robbery, conspiracy to commit the crimes and defeating the ends of justice.