A taxi driver hired by Shrien Dewani has described in detail the events on the night that Anni Dewani was killed.
The 28-year-old bride was murdered while on honeymoon in South Africa with her husband on November 13 in South Africa. The 35-year-old Bristol based businessman is accused orchestrating the murder of his wife and staging a fake carjacking.
Giving evidence for the prosecution in Cape Town's High Court, Zola Tongo said that in accordance with a plan devised by Dewani, he took the couple to a restaurant in Somerset West.
After their meal e drove them to a location in the notorious township of Gugulethu where contract killers Xolile Mngeni and Mziwamadoda 'Spra' Qwabe, were lying in wait.
He explained how the two men on seeing Tongo's vehicle approaching leaped onto the car, with one jumping on the bonnet.
Tongo said the other man pointed a gun at him and forced him into the back seat with the newlyweds.
The gunmen demanded the three of them hand over their mobile phones, wallets and watches. It was then that a frightened Anni Dewani began to cry he told the court.
Tongo said they then drove around Gugulethu before he was forced out of the car, as planned.
"At the stop sign, as decided, I was told to leave the car and the gentleman would be next to get out."
As per the plan, he then reported the 'carjacking' to police and accompanied them to the Cape Grace hotel where the couple were staying.
Tongo said he stayed at the hotel that night and reported that the following day Shrien Dewani approached him and asked if the job had been done.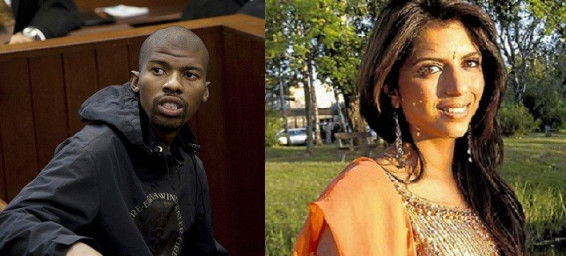 The taxi driver, who is serving 18 years for his part in Anni Dewani's murder, had earlier told the court that Dewani had promised to pay him 5,000 rand (£285) for his role in his wife's killing.
He said that Dewani told him "somebody needed to be taken out of sight" and that "he wanted somebody to be killed." He described it as a good "business opportunity" for Tongo.
Tongo told the court he was compelled to make a full confession about his involvement in the planning and execution of the murder to give him "peace of mind".
Xolile Mngeni, who prosecutors claim was the hit man, was convicted of premeditated murder over the shooting. He recently died in prison after suffering with terminal brain cancer. Mziwamadoda Qwabe was given a 25-year prison sentence after pleading guilty.
Dewani has pleaded not guilty to murder, kidnapping, robbery with aggravating circumstances, conspiracy and defeating the ends of justice.
Tongo is expected to continue giving evidence tomorrow.