Socialite Lady Victoria Harvey reportedly shared a drunken night of passion in a threesome with Melanie Brown and Stephen Belafonte when the pair were newly married.
The claims, made by a friend of Harvey, relate to an evening in 2007 and come amid the demise of the couple's 10-year marriage.
Former Spice Girl Brown, known by the moniker Mel B in the 1990s pop group, filed divorce papers against Belafonte in March, citing "irreconcilable differences".
However, it is alleged that the pair previously enjoyed what Belafonte's brother, Jeremiah, described as a "fun… lose, open" relationship.
This description fits the adventurous night of love-making described by the source, in details given to The Sun.
"It was all a blur and everyone was very drunk, especially Lady Victoria.
"She (Brown) told me one minute they were laying in bed watching a movie together, then they got carried away and Stephen was on top of her and Mel was kissing her.
"Next thing she can remember they all woke up naked in bed in the morning."
Actor Belafonte, 41, appeared to make reference to the incident last year, when he re-appropriated a Kim Kardashian Instagram post to suggest he had in bed with two women, before tagging his now estranged wife, also 41, in the post.
Brown previously discussed her fluid sexuality with The Guardian in 2014, denying claims she had an "open" relationship with her husband, but admitting she had previously engaged in a four-year lesbian relationship with Christa Parker.
"No, me and my husband are very tight and solid. I had a girlfriend. So what? I did have a four-year relationship with a woman.
"People call me lesbian, bisexual or heterosexual, but I know who's in my bed…"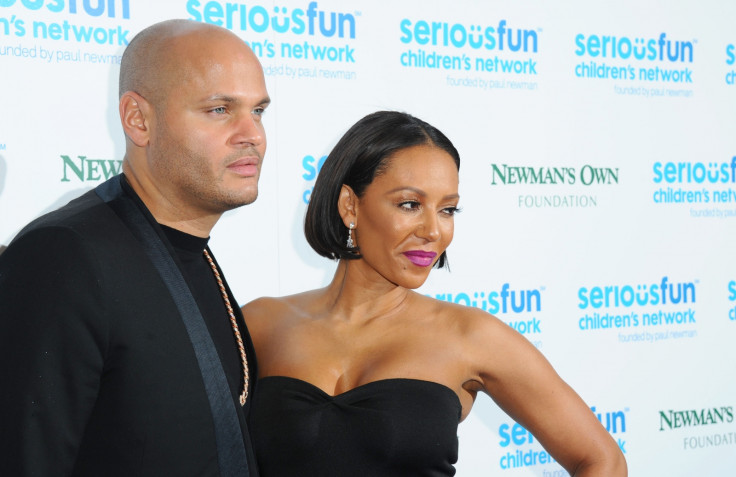 However, it has since been suggested by Jeremiah that the "open" relationship between the couple strained the marriage.
Speaking on Kyle and Jackie O Show in Australia in March, he said: "In my opinion – and I am only giving my opinion here – if you're not a very mature person and you're not very solid, if you're going to look at that as a licence to then do whatever the hell you want the someone is going to end up feeling unappreciated."
Brown is yet to make a detailed statement about the divorce, but, according to Mail Online, is seeking joint custody of the couple's five-year-old daughter Madison.