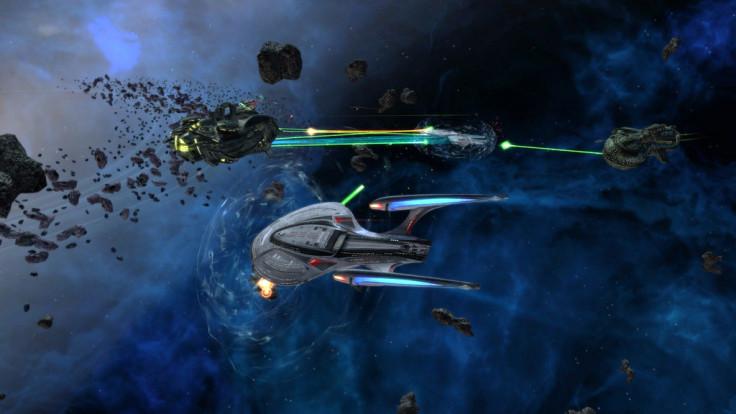 Publisher Perfect World Entertainment and developer Cryptic Studios have finally announced plans to bring their massively-multiplayer online role-playing game Star Trek Online to consoles this fall. The game was originally launched for PC in 2010.
At launch, the console game will offer six years worth of content, 130 episodes over 11 seasons, as well as the game's two expansions and major updates. It will also feature voice-overs from some of the stars of the series including Jeri Ryan (Seven of Nine), Michael Dorn (Worf), Tim Russ (Tuvok) and others.
Players will begin the game by choosing from 32 species to customise their Captain and decide whether they want to join the likes of the Federation, Klingons or Romulans. Once you're set up, you can visit classic Star Trek locations such as Vulcan, Deep Space Nine and Earth Space Dock, explore the final frontier on your own, play through the game's story content and reach the level 60 cap for free.
"Star Trek Online is well into its sixth year and showing no signs of stopping," Stephen Ricossa, executive producer of Star Trek Online wrote in a blog post. "Over our storied history we've seen a new faction, two level cap increases, more episodes than any 5 seasons of any Star Trek series, the creation of over 100,000 player generated missions, and celebrity voice work from every era of Star Trek. With all of those accomplishments there is still another frontier yet to explore, the console space."
The developers said that the popular game's console version will have better visuals than its PC counterpart, including more dynamic lighting, UI overhaul and a complete back-end rewrite.
"We invested heavily in our engine and added several modern lighting technologies that significantly improved the visual quality of the game," Ricossa said. "Deferred lighting, light probes, and improvements to our High Dynamic Range lighting system combine to provide more realistic lighting that feels like a true refresh to the game. These technologies, and the skilled artists that bring them to bear, create an experience that is not only more immersive, but simply put, more beautiful."
Since the PC version of the game does rely heavily on the keyboard and mouse, the team does say translating the keys and commands to Xbox One and PS4 controllers has been a challenge. However, they are planning on additional upgrades to "make the transition to the console space a smooth and natural experience."
Having recently successfully launched Neverwinter on Xbox One, Perfect World says Cryptic Studios has "created a control scheme that allows players to navigate both the space and ground combat with ease."
Star Trek Online will be launched on Xbox One and PlayStation 4 this fall.