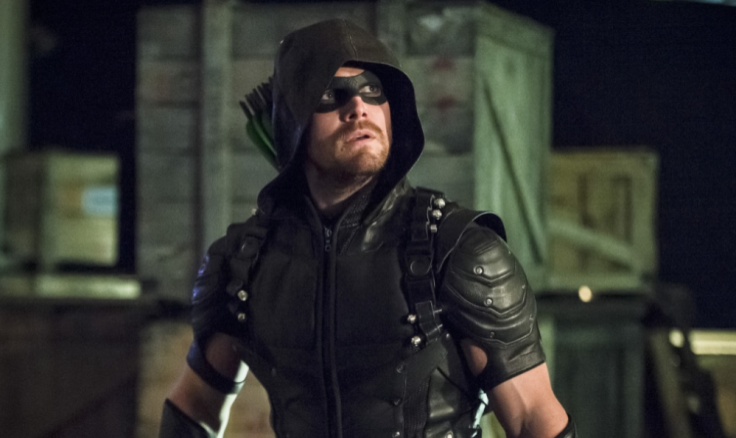 Arrow actor Stephen Amell and Tyler Hoechlin were pictured together on Thursday (4 August). And, that has ignited talks of a possible Arrow-Supergirl crossover. Amell is currently filming for Arrow season 5 and Hoechlin, who was recently cast in the coveted Superman role, is shooting for his part in season 2 of Supergirl.
Amell took to Instagram to post the image, wherein the Arrow actor is seen in a casual grey t-shirt and blue cap, while Hoechlin is dressed in his iconic blue and red Man of Steel suit. He captioned the image as, "You'll never believe who I ran into today.."
So, is an Arrow-Supergirl crossover coming out our way? Given that a four way crossover between Arrow, The Flash, Supergirl and Legends Of Tomorrow has already been confirmed by The CW president Mark Pedowitz in May, you may see Oliver Queen popping up to give Clark Kent and Kara Danvers a short pep talk.
Supergirl executive producer Sarah Schechter opened up about Supergirl and Superman's dynamic during 2016 Comic-Con. "There's nothing more complicated than being a thirteen-year-old girl on any planet, so to be thirteen and to lose everyone you know and everything — I mean, she's a refugee and she has the depth of her backstory," Sarah shared.
"Clark grew up here. He was a baby here. For him, the tragedy is that he doesn't have any memories of that planet, of where he's from. But she [Kara] does, and I think it informs her in a really interesting way."
Schechter added, "It just gives us a different window into Kara and frankly, into Clark — a Superman that people haven't met before is a Superman who has Supergirl in his life. So I think it's fun to see both of them."
Arrow season 5 will premiere on 5 October and Supergirl season 2 will premiere 10 October on The CW Network.