Japanese magazine Famitsu has revealed the third all-new character joining the roster of Capcom's Street Fighter 5. Laura hails from Brazil and her fighting style appears to be a form of Brazilian jiu-jitsu. In a series of new images she is seen fighting and choking out series mainstay Ryu.
This comes just hours after Capcom announced the return of fan-favourite Zangief to the series. The Famitsu page on which the images were released has since been taken down, implying that the magazine accidentally leaked the new character. We found the images thanks to IGN.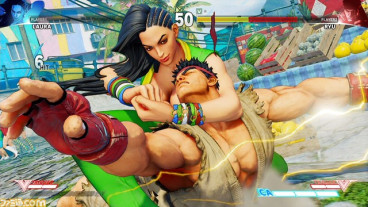 Laura appears to share some similarities with her Street Fighter compatriot and fellow Brazilian Blanka – utilising lightning based attacks. She is the fourteenth character announced for the game, leaving two more empty slots remaining – one of which being the final new character.
She joins fellow new characters Necalli and Rashid, iconic characters Ken, Ryu, Chun-Li, M. Bison, Vega and Zangief, as well as Birdie, Cammy, Karin, Nash and R. Mika.
Additional characters will be added to the game following its release next year, and like all future updates they will be free for all players.
Street Fighter 5 was announced at PlayStation Experience 2014 last December and is a huge console exclusive for Sony and the PS4. It will also be released on PC as well and feature cross-platform play between the two platforms. The game is set to be released some time between January and March 2016.
For all the latest video game news follow us on Twitter @IBTGamesUK.