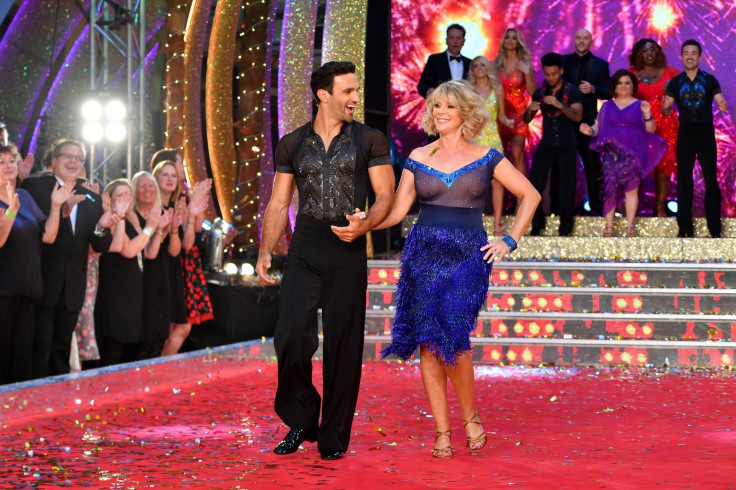 This Morning's Ruth Langsford has been branded as "cruel" after sharing a video of herself practising her dance moves with her dog Maggie ahead of her stint in this year's Strictly Come Dancing.
The 57-year-old daytime host, who will soon be cha-cha-chaing her way onto screens when the show returns on 9 September, decided to give her 357K Instagram followers a glimpse of what to expect with a video of her showing off her moves in heels.
She captioned the clip: "My Maggie helping me break my dancing shoes in...def more poise & grace than me!! @bbcstrictly #maggie #rescuedog #dogstrust #dancing #shoes"
In the footage, she holds on to her pet's paws and can be heard telling her canine friend "good girl" throughout their routine.
While some fans praised her fancy footwork, others were less than impressed, rebuking her as "irresponsible".
"Noooo please put her down. This puts way too much pressure on her hips and spine," one person said, while another admonished: "Or how about not pull your dog about? Even [if] they don't seem bothered it's not very nice."
A third added that she was at risk of injuring her pet, reprimanding her: "Not the best way to play with Maggie your dog since you could dislocate her joints."
Others reminded her that "dogs are not designed to dance! This is not good for her joints. She's going along with it to please you. Stop being ridiculous", and expressed concern for the "poor dog".
However, Peta UK's Director Elisa Allen told IBTimes UK that while a dog being made to stand on his or her hind legs for a prolonged period, is animal cruelty, that was not the case in this instance. "It looks like Ruth's dog, Maggie, was enjoying the attention," she explained. "We applaud Ruth for highlighting that Maggie is a rescued dog and for promoting adoption to help end animal homelessness – which, unlike this video, is a very real problem, as thousands of dogs are languishing in shelters across the country, waiting for a kind soul to give them a home."
This year's Strictly line up includes the likes of EastEnders actor Davood Ghadami, JLS singer and favourite Aston Merrygold, 29, The Saturdays star Mollie King, 30, and Good Morning presenter Charlotte Hawkins, 42. Producers have confirmed that the first show will feature a tribute to venerated host Sir Bruce Forsyth who died on 18 August this year aged 89.