A suspected suicide bomber reportedly detonated an explosive and blew himself up on Friday (24 March) near a police check post close to the international airport in Dhaka, Bangladesh. Islamic State (Isis) has claimed responsibility for the blast and said that many officers were killed, while several others were injured.
In a message posted on its social media accounts, the group named the suspected attacker as Abu Mohammed al-Bengali and termed the attempt as an attack on "apostates" – police officials, Reuters reported.
However, police did not confirm the group's claim and said the incident caused no damage to any policeman or civilians. The only casualty was the suspect himself, Dhaka Metropolitan Police Commissioner Asaduzzaman Mia said, according to bdnews24.com.
Further, Mia said that it was not an attempted "suicide attack". It was rather an explosion that "occurred in a trolley bag that a man was carrying on the street, and he was killed in the blast," the police chief noted.
The suspect was carrying explosives, but on seeing policemen at the check point, "he must have become too cautious and ended up causing an explosion," Mia told reporters.
The man was between 30 and 32 years of age.
Authorities have cordoned off the area near Hazrat Shahjalal International Airport intersection in Dhaka where the blast took place at 8pm local time. Flight operations remained unhindered despite the incident, Civil Aviation and Tourism Minister Rashed Kham Menon said.
It is thought to be the third such incident in Dhaka in the past one week, reports said.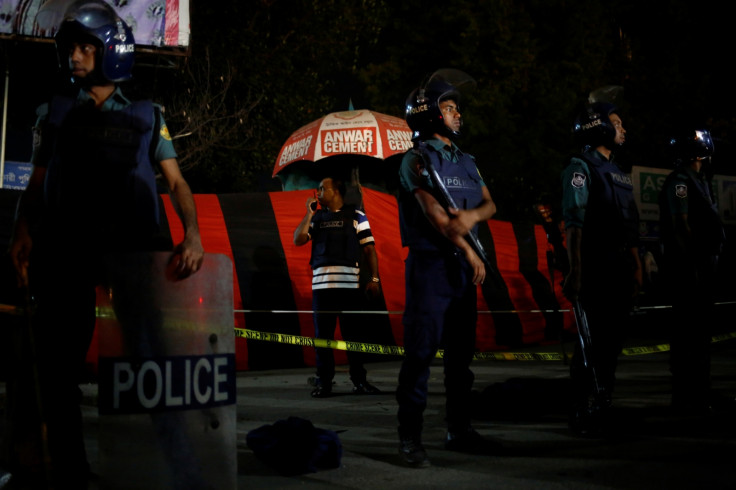 On 17 March, a suspected suicide attacker had denoted himself near the base of Bangladesh's elite Rapid Action Battalion (RAB) – anti-terror police force – which is also close to the Dhaka airport. Two policemen were injured in the blast.
In another attack on 18 March, RAB forces shot and killed a suspected militant who tried to cross a security checkpoint in Dhaka's Khilgaon area while carrying explosives.
Isis and al-Qaeda have been competing to claim responsibility of such suicide attacks in the country. But the government has consistently denied the presence of militants groups and blamed domestic militants for the attacks.