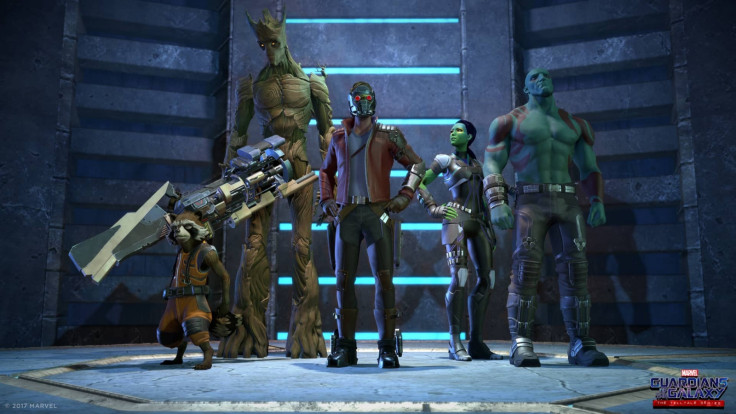 Telltale Games has revealed new details about its upcoming Guardians of the Galaxy game including first screenshots, giving players their first peek at the five-episode series set to release this year. Announced during The Game Awards last year, Marvel's Guardians of the Galaxy: The Telltale Series will be a "brand new story of the universe's unlikeliest heroes: Star-Lord, Gamora, Drax, Rocket and Groot."
"From Earth to the Milano to Knowhere and beyond, and set to the beat of awesome music, you wear the rocket-powered boots of Star-Lord in an original Guardians adventure, where your decisions and actions drive the story you experience," the studio wrote in a blog post.
The studio also confirmed the voice actors behind the five cosmic adventurers featured in its upcoming take on Marvel's beloved franchise.
Friday Night Lights star Scott Porter will be voicing Star-Lord, Middle-earth: Shadow of Mordor actress Emily O'Brien will play Gamora, Uncharted actor Nolan North will voice Rocket and Watch Dogs' Brandon Paul Eells will be portrayed as Drax.
Meanwhile, Groot will be played by The Wolf Among Us' Adam Harrington.
A brief synopsis from the studio reads: "In the wake of an epic battle, the Guardians discover an artifact of unspeakable power. Each of them has a reason to desire this relic, as does a ruthless enemy who is the last of her kind, and who will stop at nothing to tear it from their hands."
More details on the adventure game will be revealed during a panel at PAX East in Boston on 10 March featuring the Telltale Games team as well as Marvel Games creative director Bill Rosemann.
On 17 March at SXSW in Austin, Texas, Telltale will host a Crowd Play of an early version of the game's first episode during a "one-of-a-kind premiere event" at the Paramount Theater where audience members will be able to control the game's story on the big screen from their seats via their mobile devices.
Marvel's Guardians of the Galaxy: The Telltale Series will be released for PC, consoles and mobile devices. However, the studio has yet to announce specific platforms.
The series will be available digitally and in stores as a special season pass disc that will include the first episode in the season. It will also grant players access to the next four episodes as they are released through online updates.