On 11 March, Game Freak announced their first game for PS4, Xbox One and PC - Tembo The Badass Elephant - published by Sega. It's a side-scrolling cartoon platformer which, as you can probably ascertain from title - is seriously silly.
Game Freak are best known for developing games in the Pokémon universe, and have made every mainline release in that series to date. They have done and continue to do exceptional work with one of gaming's most enduring franchises, but that's not all the studio does.
In 2012 they made HarmoKnight, a well-received rhythm platformer for the Nintendo 3DS e-shop, and followed that up in 2013 with the release of their first iOS and Android venture - a cute solitaire game called Solitiba.
Less than 24 hours after the Tembo announcement, the game was put in the hands of the public at London's EGX Rezzed event, an industry exhibition dedicated to gaming's indie scene. Here we stomped through the crowds to try it out.
Tembo - the Rambo of the cartoon pachyderm world
There's an immediate charm with Game Freak's titles and Tembo is no different – in fact charming is really the operative word. Tembo is part Dumbo, but mostly Rambo, an elephant commando working for the Shell Army – an army of humans who never question the elephant among their ranks.
Clearly he's already earned the badass title by this point.
Shell Army have been tasked with protecting Shell City from an invading force calling itself Phantom – a purple-clad army with skull masks, tanks and a disregard for animal welfare. They've also taken human hostages for their nefarious means.
There are 17 levels in the game, each selected from a mission map resembling a giant peanut (of course). We played the tutorial, followed by the first two levels, which each had one required objective - destroy all the tanks – and two optional ones – eliminate all enemies and rescue all the hostages. These two missions took place in a city and hilly environment, each easily destroyed by the surprisingly nimble hero.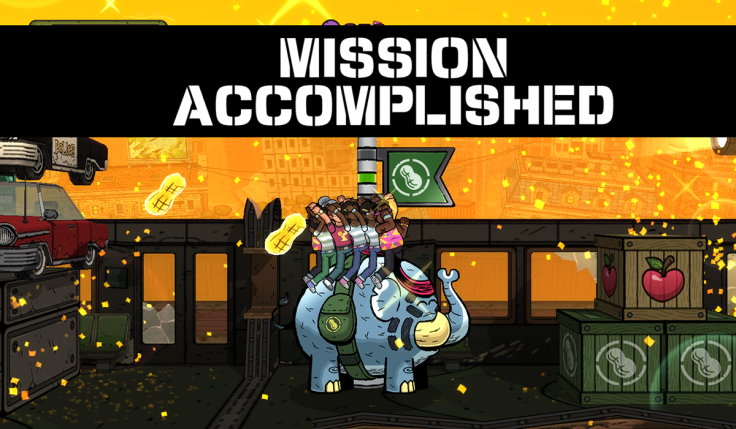 Tembo has a charge attack which he uses to mow down foes, break boxes, rescue hostages and – when combined with a jump – leap further. He also has a self-explanatory "butt stomp" and a trunk he can fill up at water stations and use to extinguish burning obstacles, knock down enemies, and prompt platforms and flowers to appear.
Using the trunk and then crossing these platforms was fiddly, and not a brilliant fit for the game which was better when Tembo was running full speed at enemies. In those instances the game was almost reminiscent of Sonic – but for fear of getting Sega too excited I won't take that comparison any further.
Being a side-scrolling 2D platformer on new-gen consoles, there's lots of visual flair in the chaos, but when there was a lot of destruction the game's framerate did suffer. The game is still a few months from release however, so there's plenty of time to remedy that. The Sega representative on hand was also eager to hear complaints – so Game Freak are clearly open to feedback.
This being a platformer there are of course collectables, in this case peanuts. Collect 300 and they'll become a jar of peanut butter, the game's equivalent of a life. Game Freak certainly aren't breaking new ground with their platforming mechanics, but what they have works well and it's all wrapped in a fun and charming package.
When Tembo slows down he screeches to a halt; when the player holds down the jump button Tembo struggles and briefly floats; failure results in the screen emphatically telling you "ELEPHANT DOWN" - it's these little things that make the game so endearing, and which could make Tembo The Badass Elephant one of the summer's must-have indies.