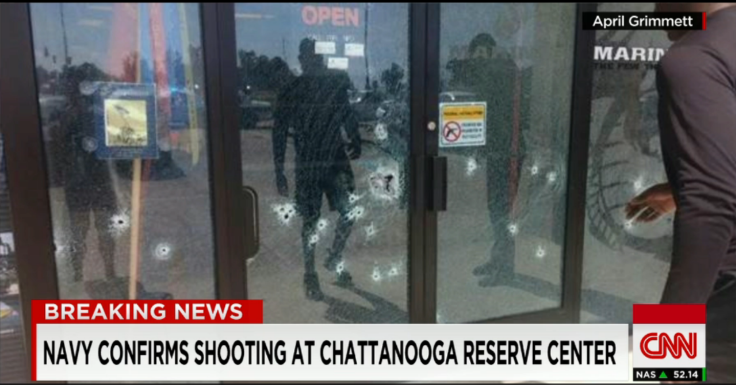 Four US Marines and a gunman are dead after twin attacks in military facilities in Chattanooga, Tennessee on 16 July. A Chattanooga police officer was also shot at US Naval Reserve Centre in the attacks, Mayor Andy Berke told reporters.
The gunmen has been identified by law enforcement as 24-year-old Muhammad Youssef Abdulazeez, a naturalized US citizen from Kuwait, according to The Hill. The Associated Press reported Abdulazeez lived in Hixson, Tennessee, just a few miles away from Chattanooga.
According to the Times Free Press, Abdulazeez's father, who works for City of Chattanooga Public Works Department, had been named a special, unarmed police officer in Chattanooga. The shooting began six miles west at a National Guard office on Lee Highway and later moved on to the Naval Reserve Centre, where the victims were shot, according to local media reports. USA Today reported that witnesses saw a gunman fire from a silver Mustang into the building.
A US military official told WRCB TV that the gunman fired 25 to 30 rounds at the military recruitment facility before driving to the reserve centre and opening fire there.
The Chattanooga police officer who was shot is said to be in a stable condition. Burke told reporters that he and Chattanooga Police Department Chief Fred Fletcher had visited the shooting scene and visited the officer at the hospital.
According to WRCB, the Department of Homeland Security activated their Chattanooga Strike Team during the attacks. Governor Bill Haslam's resident was temporarily shut down, while extra security was put in place at the Tennessee Capitol.
US Senator Lamar Alexander released an email statement, saying, "I am deeply disturbed by the reports of a violent attack in Chattanooga. I have been in touch with federal, state and local officials and will monitor the situation closely. My thoughts and prayers are with everyone involved."
Fellow Senator Bob Corker added, "I am heartbroken by the tragic shootings that have taken place today in my hometown. We have been in touch with federal, state and local officials and continue to monitor developments and have offered our assistance. This is a difficult day for Tennesseans and our thoughts and prayers are with all affected by this tragedy."
During the shooting, Chattanooga State Community College was placed on lockdown. According to the Times Free Press, the lockdown has been lifted, but the campus remains closed for the day. Reuters reported that the emergency department at Erlanger Medical Center has also been placed on lockdown.
In a press conference following the shooting, District Attorney Neal Pinkston said they were treating the incident as "an act of domestic terrorism." FBI Special Agent Ed Reinhold confirmed that the FBI would be taking lead in the investigation.
President Barack Obama released a brief statement saying, "I'd ask all Americans to pray for the families that are grief stricken."