Terry Wogan dies: Tributes flood in for 'iconic national treasure' who died aged 77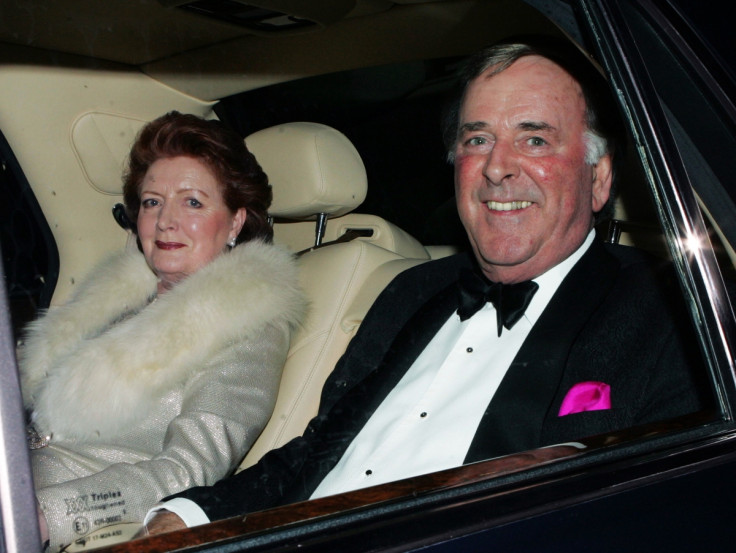 TV host and radio presenter Sir Terry Wogan entertained the nation for over 50 years working on multiple smash-hit programmes and putting smiles on the faces of listeners and viewers. On 31 January he died due to a short battle with cancer leaving behind his wife Helen, four children, and five grandchildren.
With a career that began in 1967, almost everyone in the UK would have seen one of his most famous shows including the Eurovision Song contest, which he presented from 1971-2008, Children in Need, Blankety Blank and Come Dancing or his self-titled chat show, Wogan. The Limerick-born presenter was instantly described as a 'national treasure' by BBC director Tony Hall.
A hit until the end, in 2009 he retired from his radio show, Wake Up to Wogan on BBC Radio 2, which had regular viewing figures of more than 8 million. And as the news broke many other TV personalities who had worked with, or were inspired by, Wogan paid tribute to his down-to-earth nature, on-air blarney, charm and wit.
Wogan's early years
Born Michael Terence Wogan in the impoverished western city on 3 August 1938, the son of a grocery shop manager, Terry had a strict Roman Catholic upbringing. He later renounced his Catholicism, describing leaving the faith as a relief.
In 1953, his family moved Dublin where he became interested in amateur dramatics and rock'n'roll but admitted that he never really applied himself. He said: "I never had any capacity for preparing for anything. That's why I'm so lucky to be in a job where I make it up as I go along."
His first job in the media was working as a newsreader and announcer with Irish broadcaster RTE after answering a newspaper advert. He later became a radio DJ but his big break came when he was chosen to host Jackpot, a quiz show that proved popular in Ireland on RTE during the 1960s.
In 1967 he began working for the BBC making his debut on the Light Programme, which is now Radio 2, and, in 1969, was asked to stand in for Jimmy Young. In 1972, he took over the breakfast show on Radio 2 which had been presented by John Dunn.
Despite his laid-back and homely presenting style, Wogan was in his own way a ground-breaking presenter, becoming the BBC DJ who introduced Britain to reggae, by playing Kansas city by Joya Landis on his late-night show in 1968.
He began to present the Eurovision Song Contest 1971 on the radio and then in 1973, he began presenting the show on the TV, which he continued until 2008. Lauded for his comedic analysis of each of the contestants he proved a hit with the British public.
He later said of the contest: "All I've gained by watching the Eurovision Song Contest over the years is a numbing of the prefrontal lobes. The whole thing has become an outstanding, grandiose load of rubbish."
Whilst presenting his namesake TV chat show and Children In Need Terry Wogan, conducted some memorable interviews with celebrities such as George Best, who was clearly drunk at the time. He retired from his Radio 2 breakfast show in September 2009 with listeners still regularly exceeding 8 million.
He had achieved an Honorary Knight Commander of the same order (KBE) in the Queen's Birthday Honours in 2005 after receiving an OBE in 1997. Wogan was granted an honorary knighthood in 2005. As Ireland was not a republic when he was born, he held dual British and Irish citizenship and so was entitled to the honorific, Sir. In May 2007, he was made a Deputy Lieutenant of Buckinghamshire, and in June of that
In May 2007, he was made a Deputy Lieutenant of Buckinghamshire, and in June of that yearWogan's home City of Limerick honoured him with the Freedom of the City at a ceremony in Limerick's Civic Hall.
Wogan, who lived in Taplow, Buckinghamshire, said of his own success: "A lot depends on luck, and being in the right place at the right time; which was certainly true in my case."
© Copyright IBTimes 2023. All rights reserved.