Tom Clancy's The Division is an online multiplayer shooter set in New York City following a viral attack that has caused the US Government to collapse. With basic infrastructure in tatters, society crumbles, leaving the city in disarray and its occupants in a battle to survive.
The very idea of New York in the immediate aftermath of an attack carries clear connotations of the terrorist attacks of 11 September 2001 - as do the game's visuals and environmental design - but according to associate creative director Julian Gerighty 9/11 never came up in meetings.
"I don't think even the parallel between this game scenario and 9/11 exists," Gerighty told Kill Screen. "It's the first time I've ever been asked about it, and it hasn't really crossed any of the meetings that I've done on it before."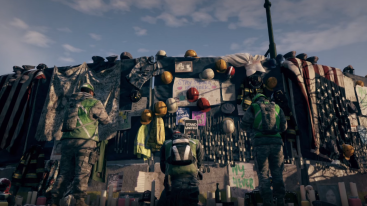 This is hard to believe. Ubisoft's marketing has partly sold The Division on visuals of a New York in ruin. In the game's US launch trailer there's even a shot of a memorial adorned with fire fighter uniforms, dog tags and the US flag (pictured, right), with one on-looker lighting a candle in tribute.
This is hardly a new tactic in the entertainment industry. Post 9/11 imagery can be seen in most Hollywood blockbusters - take Zack Snyder's Man of Steel or Michael Bay's Transformers trilogy as examples. It's not necessarily bad, but why ignore such a blatant parallel?
The Division's viral attack - a strain of small pox carried initially by contaminated cash on Black Friday - isn't explicitly called a terrorist attack in the game as far as we're aware, but it clearly is one no matter its origin.
Kill Screen's writer pressed Gerighty further on the game's themes, specifically the anti-capitalist message of money causing the downfall of society and the game's depiction of a city's occupants fighting in the aftermath of an attack, rather than helping one another. "At the end of the day, it's a video game, it's an entertainment product... There's no particularly political message with it," said Gerighty.
In Tom Clancy's The Division, the eponymous Division is a group of agents tasked with establishing order and saving the city from criminal groups roaming its streets. The game is out next Tuesday, 8 March, on PS4, Xbox One and PC.
For all the latest video game news follow us on Twitter @IBTGamesUK.