8 March sees the worldwide release of Tom Clancy's The Division on PS4, Xbox One and PC. A new Ubisoft IP, the game is poised to do big business as one of 2016's biggest new releases, but what exactly is it?
As the game launches, IBTimes UK has put together a look at what the game is and what to expect from it over the months, possibly even years, ahead. This isn't likely to be a game we stop hearing about in just a few weeks. The Division is sticking around, and Ubisoft is counting on it.
What is The Division?
The Division is an online, open world, massively-multiplayer, tactical third-person shooter with role-playing game (RPG) elements. We'll probably just boil that down to "shooter" from now on. In it, players are able to group up with both strangers and friends online, forming teams of four to tackle campaign missions and patrol the game's Dark Zone – which we'll get to later.
What's the set-up?
An outbreak of small pox, transmitted with a virus planted on bank notes, has swept across the United States – devastating its people, the country's infrastructure, and within just five days, causing the collapse of the US government. Players take up the role of an agent of the Strategic Homeland Division (otherwise known as The Division) – a group of self-support sleeper agents who take up arms in the wake of the chaos to bring order back to the country.
The game takes place in New York City, largely on the isle of Manhattan, in an open world that makes use of various landmarks, including Madison Square Garden and Times Square. In the open world are various missions – some key to the story, others side-quests – and roaming groups of criminals attempting to capitalise on the ruin of society.
How will it play?
At its core The Division is a third person, cover-based shooter, and plays as such. Set in a persistent online world, players will also share their game with other Division players – creating moments that will see players teaming up on the spur of the moment, as well as offering the chance to party up to complete set missions.
This is the reason the game has been likened to Bungie's Destiny – which has proved an enormous success during its 18 months on sale. Like Destiny, The Division also has a great depth, with the ability to purchase and upgrade items, weapons and gear found on enemies and in the environment.
In effect The Division is a "secret numbers game" with most actions resulting in the acquisition of experience and in-game money. Regular credits are acquired in every part of the game – campaign missions, side-missions and the Dark Zone – and are used to improve your gear and in turn your likelihood of success.
Then there are Dark Zone Credits – the other form of currency, used and found in and around the Dark Zone.
So what's this Dark Zone?
The Dark Zone is really the main selling point of The Division. Whereas the main game is player versus everything (PVE), the Dark Zone is both that and player versus player (PVP). It's a specific, separate area within the game's open world, in which it's basically mob rule.
Players can team up with strangers and friends, as before, and venture to find and collect valuable loot – which will include many of the game's best items – but they will be competing for that loot against fellow teams of players, as well as AI enemies more fiendish than in the main game.
Any loot acquired (from another player, or from a chest) is carried by the player until it is extracted by helicopter. If you die, it stays where you died until you or another player picks it up. Extraction also means noise, and attracting the attention of nearby players who now know there is loot up for grabs.
Players can attack any other player, but if you do you'll be marked as a rogue – making it clear you're not to be trusted. If a player dies as a rogue – they'll incur harsher penalties, and their killer will receive better rewards.
Dark Zone Credits are acquired here, and can be used at vendors within the area.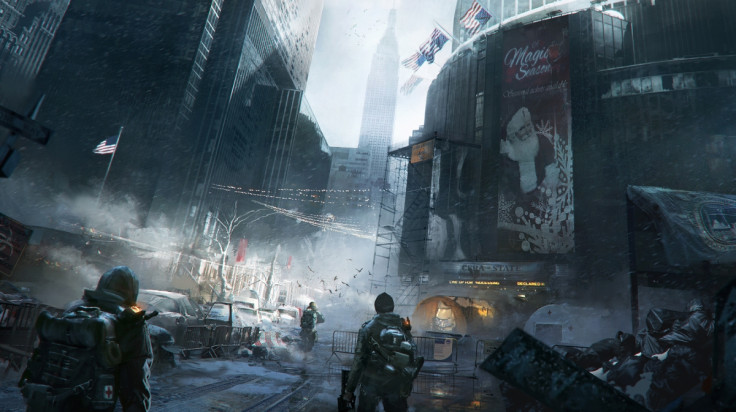 There are micro-transactions aren't there?
Of course, but for now they're small and inconsequential. Currently there are two costume packs available for £3.99 apiece - a "US Marines Outfits Pack"and a "Military Specialists Outfit Pack". More micro-transaction items are inevitable, and fans will be eager to find out whether they remain cosmetic and start to influence how people play the game.
What does Ubisoft have planned for The Division's End-Game?
A lot. Being persistently online, the game is designed to have a long tail that Ubisoft hopes to capitalise on with free updates and paid expansion packs. The exact size and cost of these has yet to be announced, but last week Ubisoft outlined a vague plan for the year ahead.
"In April, the first free update will introduce the first incursion, a new challenging end-game activity developed specifically for squad play," says Ubisoft. "Teams will be able to test their skills as they face seemingly unstoppable enemies to gain high-level weapons and equipment." These are the same as "raids" in traditional MMOs and Destiny. The update will also add the ability to trade loot with other players.
May's free update "will add new features to the Dark Zone and add a new incursion in the iconic Columbus Circle." Information about later updates was not revealed.
There are also three paid expansions, the first of which – Underground – arrives in June. This will be followed by "Survival" in summer and "Last Stand" in Winter. These will all likely include new environments, but right now only the first expansion is confirmed.
Tom Clancy's The Division is out now for PS4, Xbox One and PC.
For all the latest video game news follow us on Twitter @IBTGamesUK.