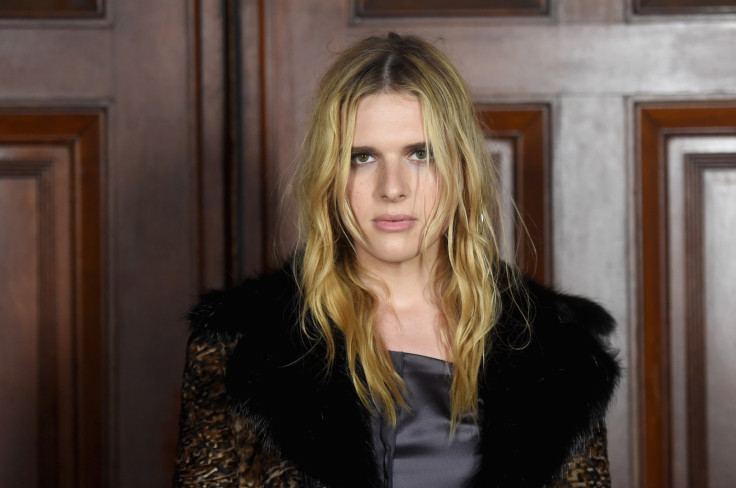 Love Magazine released its most raunchy advent video yet, starring transgender model Hari Nef. And, the Lena Dunham-directed calendar video has immediately sparked frenzy on social media.
In the explicit video, a man is seen appearing to perform an oral sex act on the model as she wriggles in the scene set to sensual music. However, her pleasured expression fades to disappointment before she pushes the man off her.
The 3-minute video opens with the 25-year-old model chatting with her assistants. She is seen sitting in a make-up chair, wearing a floral semi-sheer lace dress, while lotion is rubbed into her toned legs.
Her tresses are styled into soft waves as she declares, "Glam, glam, glam, I like having my body touched and beautified at the same time. I hate being this ugly but I love looking this good."
The video then cuts to a work-out session where Hari shows off her figure in a tiny bra paired with bondage-style leggings as she bends over and stretches, with several other models behind her.
The runway model shared the Love Advent video to her social media accounts. Alongside the video, she wrote on Instagram "Happy new year dummies it's the most wonderful time of the year and that means #loveadvent 2018 is the year of clinical anxiety but make it fashion hope everyone gets mad brain in the new year shoutout to a dream team of literal angels."
A fan of Nef commented saying, "This is great! Love love love," while another noted, "This is the best thing ever I'm dying." Another comment reads, "You're beautiful! Love you!"
Dunham also shared the video on her Instagram page, which has received more than 992,401 views. A user wrote in the comments section saying, "This made me smile on this bleak Tuesday evening whilst my hair resembles yours in AHS. HNY Lena."
Hari Nef, who made her runway debut at New York Fashion Week Spring 2015, gushed about being part of the raunchy annual calendar. She said, "Love Advent is as fun as it gets in fashion, and a testament to Katie Grand's vision. It's always glam, always sexy- but goofy too, and that's important!"
She also paid tribute to the 31-year-old Girls star's directorial abilities, and said, "Working on this year's Advent with Lena Dunham was a dream: we laughed from the beginning of shooting until the end- plus she let me improvise most of the voiceover!"