Turkey arrests newspaper editor on charges of insulting the president amid crackdown on press freedom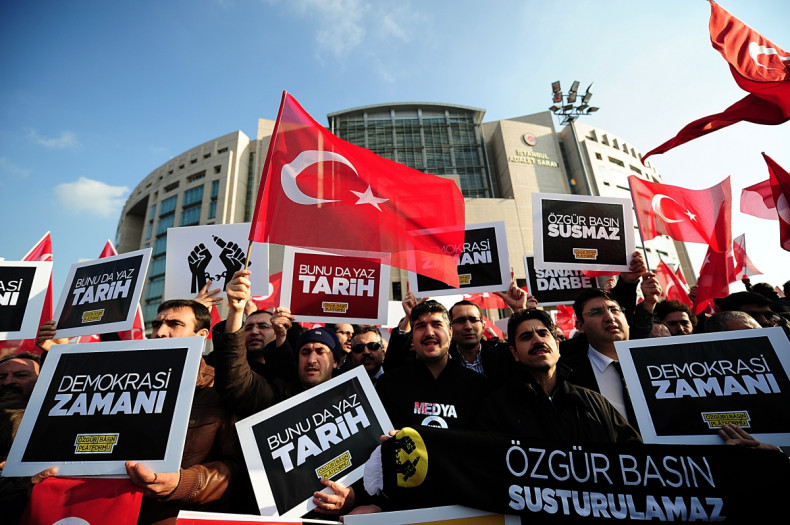 Turkish police have arrested the editor of a leading English-language daily newspaper for posting a number of tweets allegedly "insulting" President Recep Tayyip Erdogan. Bulent Kenes was detained by plain-clothes officers at Zaman's offices in the latest example of restriction on press freedom in the country.
The Turkish Journalists' Union (TGC) issued a statement condemning the apprehension. "Referring Today's Zaman Editor-in-Chief Bulent Kenes to a court for arrest ahead of elections is another example of intimidation of the media," it said. "We hope these moves which harm Turkish democracy ends."
Kenes was taken away from the offices amid cries of "free media cannot be silenced!" from supporters. His departure was broadcast live by television channel, Samanyolu.
Agreeing to a request by prosecutors to detain Kenes, an Istanbul court issued a warrant for his arrest on charges of "insulting" Erdogan in a series of tweets sent in August. Kenes said that he was simply expressing a critical opinion as per his right to free speech. He was handed a 21-month suspended jail term in June on charges of insulting Erdogan in a separate case.
The arrest of the editor-in-chief has also been denounced by the Committee to Protect Journalists (CPJ). "We call on Turkish authorities to immediately release Bulent Kenes and stop their relentless crackdown on the press," CPJ Europe and Central Asia Program Coordinator Nina Ognianova said. "Not a day passes by without a prosecution, arrest, attack, or obstruction of independent or opposition voices in Turkey. Such a record does not befit a modern democracy that aspires to enter the European Union."
Press freedom has dwindled since Erdogan became president and the arrest has been widely criticised. "Arbitrarily summoning members of the press to testify, detaining them and arresting them are against the principle of freedom of expression," Republican People's Party (CHP) Istanbul deputy Mahmut Tanal said. "Although the obstacles before fundamental rights and the freedom of expression should be lifted, arresting some members of the press is unacceptable. This is an open violation of human rights."
The latest arrest comes as a growing number of journalists, bloggers and ordinary citizens (including footballer Hakan Sukur) face court action on charges of insulting Erdogan and other officials. In August, 18 journalists were indicted for publishing a photo of an Istanbul prosecutor being held at gunpoint by two militants from the banned Revolutionary People's Party-Front (DHKP-C).