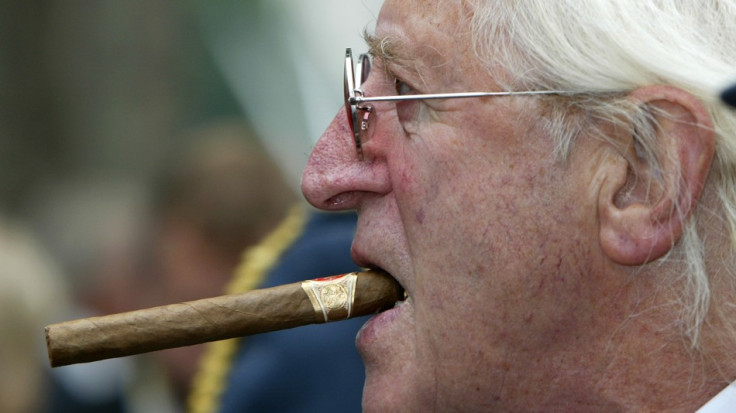 Popular British TV presenter Sir Jimmy Savile passed away at his home in Leeds Saturday, just two days before his 85th birthday.
Savile's shot to fame in his broadcasting career while working at Radio Luxemburg before his break at BBC Radio One. The cigar-smoking wacky entertainer made news as he hosted the first episode of "Top of the Pops." But his 20-year-long show "Jim'll Fix It" worked miracles in more than 1,500 children by granting them their wishes and made him their favorites.
If "Jim'll Fix It" badge was an object of desire for many, Savile coined phrases and made it to popular culture such as: "How's about that, then?", "Now then, now then, now then", "Goodness gracious" and "Guys and gals."
After reportedly suffering from a bout of pneumonia last month, it is not yet known how the famous star died. But the police said there were no suspicious circumstances, reported the Guardian.
Savile was a close friend of many royal family members. He was said to have enjoyed regular dinners with Margaret Thatcher when she was prime minister. It was also reported that he had acted as an intermediary for the Prince Charles and Princess Dianna before their split, reported the Guardian.
The Prince of Wales and the Duchess of Cornwall have led the tributes to the star's death, reported the Daily Mail. He was acknowledged with many awards and honors including the OBE, the Papal Knight Commander of Saint Gregory the Great (KCSG) and a Knight of Malta.
Widely known for his swanky gold jewelry, tinted glasses and platinum hair, Savile had started his working life as a miner in his native Yorkshire before running a series of clubs there. He also worked as a DJ, wrestler and a marathon runner raising millions for charity in support of good causes.
A statement from the Stoke Mandeville Hospital said: "We are incredibly saddened to learn that Sir Jimmy Savile has passed away. Sir Jimmy has been a great supporter of Stoke Mandeville Hospital for a number of decades. He was tireless in his attempts to fundraise for the hospital and was integral in the creation of the National Spinal Injuries Centre that we have today. Sir Jimmy will be sorely missed by staff and patients alike."
Among those paying tribute were fellow DJ Dave Lee Travis. He said Savile had been a larger than life character, adding: "We are all going to be worse off without him around." Tony Blackburn said: "He was a one-off - that's the way he'll be remembered, really," reported the Guardian.