The leader of Ukraine's Jewish communities has warned that Russian neo-Nazi organisations are increasingly active in the pro-Russian insurgency in east Ukraine.
Iosif Zisels, head of Vaad Ukraine, the Association of Jewish Organisations and Communities of Ukraine, has said that that Russia is "infected with the ideas of revanchism and that is very closely linked to fascism".
According to Zisels, neo-Nazi organisations – which have prospered in Russia for over 20 years, and fuel tensions in the country after the fall of the Soviet Union – are now operating in Ukraine after being active in Moldova and Georgia.
Zisels says the most powerful far-right unit is the Russian National Unity (RNU) movement, led by ultra-nationalist Aleksandr Barkashov.
Barkashov visited Ukraine twice this year, in March and May, and is currently based in Donetsk.
This paramilitary organisation, which advocates the expulsion of non-Russians from the country, was founded in 1990. Its red-and-white emblem resembles the swastika icon used by the German Nazi party in the 1930s and 1940s.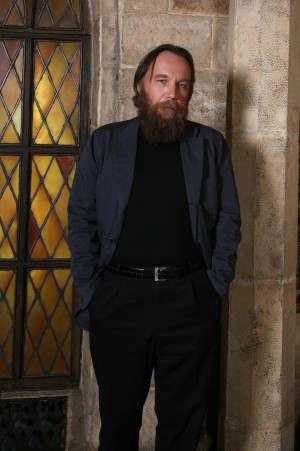 Barkashov's son is fighting in separatist groups in eastern Ukraine, says Zisels.
Among other Far Right groups alleged to be operating in the Ukraine is Aleksandr Dugin's Eurasian Youth Union, right-wing elements of The Other Russia dissident coalition, and the resurrected 'Black Hundreds'.
Zisels said the Russian neo-Nazis "do not have their own military units, but their members are included within other units".
Expansionist philosopher
Ultra-nationalist philosopher Dugin is a legendary figure in Russia.
A professor at Moscow state university, the founder of the Eurasian Youth Union is thought to have inspired President Putin's desire to annex of Crimea.
Dugin also publicly supports the rebels in Donetsk region, which he calls Novorossiya – 'New Russia' – and claims the separatist struggle there, which he calls "Russian Spring", has rekindled the "Russian spirit".
Dugin is also one of the greatest supporters of Igor Strelkov, the charismatic separatist leader who recently resigned from his ministry of defence post in the self-proclaimed Donetsk People's Republic.
The bearded Dugin backed Russia during the 2008 war with Georgia, calling for a full-scale invasion of the ex-Soviet country to overthrow the then-president Mikhail Saakashvili. On that occasion, he said Russia should have seized Crimea "which is part of Russia anyway".
Strange bedfellows
The Other Russia coalition was established in July 2011 by writer and National Bolshevik Party leader Eduard Limonov. It is formed by a disparate group of political organisations, including liberals, communists, nationalists, human rights organisations, and elements of the Far Right.
Eduard Limonov, leader of the radical ultranationalist National Bolshevik Party, is one of Other Russia's leaders, alongside Garry Kasparov, the Russian chess Grand Master who founded the pro-democracy United Civil Front.
This unusual coalition of political movements is linked together by their opposition of Putin's rule.
Russian Neo-Nazis
The Black Hundreds leader, Anton Raevskii, attempted to create a subversive group in Odessa while taking part in Ukrainian separatist rallies back in March. This led to him being banished from Ukraine later that month.
Raevskii has denied being a neo-Nazi, claiming his organisation promotes "monarchy, empire and Eastern Orthodox Church", but photographs show he has Nazi-themed tattoos: including a large tattoo of Hitler on one his arm.
The organisation shares its name with pro-Czarist, ultranationalistic and anti-Semitic political groups from pre-Stalinist Russia.
Raevskii promotes The Black Hundreds through a YouTube channel.