Uncharted 4: A Thief's End release date set for March as special editions announced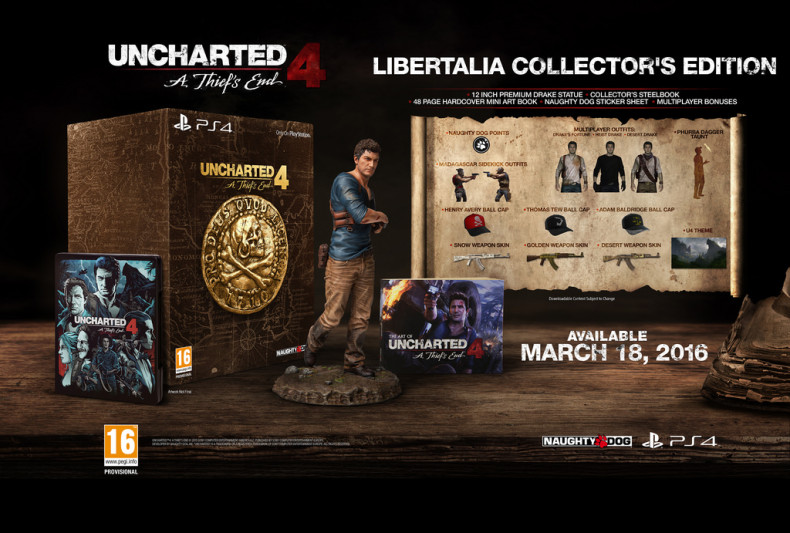 Naughty Dog's upcoming PlayStation 4 exclusive action adventure game Uncharted 4: A Thief's End will be released on 18 March 2016, Sony has announced. A collector's edition and special edition were also announced.
The special edition includes a specially designed steel book case, an art book, stickers, Naughty Dog Points to redeem for multiplayer related content and of course the game itself. The Libertalia Collector's Edition includes everything in the special edition plus additional outfits, weapon skins, a PS4 dashboard theme a taunt, hats and a 12-inch statue of series protagonist Nathan Drake.
The PlayStation Blog in which the announcement was made lists all the details as follows.
Special Edition
Uncharted 4: A Thief's End Blu-ray disc
Collectible steel book case designed by Alexander "That Kid Who Draws" Iaccarino
48-page hardcover art book by Naughty Dog and Dark Horse
Naughty Dog & Pirate Sigil Sticker Sheet
Naughty Dog Points: redeem the points to unlock new multiplayer content and character upgrades
Libertalia Collector's Edition
All of the above, plus:
A 12-inch premium Nathan Drake statue by Gentle Giant
Three multiplayer outfits: Uncharted: Drake's Fortune, Heist Drake and Desert Drake outfits
Three custom weapon skins: Golden Weapon Skin, Snow Weapon Skin and Desert Weapon Skin
Henry Avery, Thomas Tew and Adam Baldrige Sigil Ball Caps
Madagascar Sidekick Outfits
Phurba Dagger Taunt
An Uncharted 4: A Thief's End dynamic theme
The Digital Standard and Deluxe editions available via the PSN Store contain various multiplayer elements.
Uncharted 4 was delayed earlier this year until Q1 2016 with no specific date given until now. The delay has left Sony without much of a first part line-up for the tail end of 2015 but the substantial lead PS4 has over Xbox One in terms of sales means a larger percentage of third party titles are bought on the system.
With the strong third party line-up set to be released this year – including Star Wars: Battlefront, Fallout 4, Hitman, Just Cause 3 and many more – Sony can afford to release a lacking array of first party titles. Their 2016 line-up of exclusives is looking spectacular however, with Uncharted set for release alongside Street Fighter V , No Man's Sky, Horizon: Zero Dawn, Ratchet and Clank, The Last Guardian and the release of virtual reality headset Project Morpheus.
For all the latest video game news follow us on Twitter @IBTGamesUK.