Owners of iPhone 4s are in for a bitter surprise, as the resource-hungry iOS 8 software reportedly slows down the ageing handset by two times or more.
iOS 8 will slow down your handset noticeably with two times slower launching of stock apps, almost three seconds longer booting and more, reports ArsTechnica.
The tech portal adds that the three-year-old iPhone 4s will face a sluggish performance, given its ageing hardware and incompatibility issues with certain hardware-dependent iOS 8 features such as Handoff, AirDrop, the OpenGL ES 3.0 and Metal graphics run-time and more.
To be precise, the iPhone 4s has been tested to prove that it takes nearly twice the time to open some stock apps such as Safari on iOS 8 compared to the latest iOS 7.1.2 software.
The folks at ArsTechnica have posted the comparisons in seconds for time taken for each app to launch in iOS 8 and iOS 7.1.2, which can be seen in the table below:

The report adds that each app was launched once with the stopwatch readings taken from the launch time till the first user input, then force-closed and opened again two more times to calculate the average speed of launching a stock app in iOS 8 in contrast to iOS 7.1.2.
Some of the noteworthy inferences we could make from the speed comparison table (iOS 8 and iOS 7.1.2) are as follows:
Mail app is only marginally slower on iOS 8 than iOS 7.1.2.
Call forwarding feature and Camera app seem to launch just fine with barely any lags or slow downs.
Calendar loads about 60 percent longer.
Safari launches 70% slower in iOS 8 than iOS 7.1.2.
Settings take 30% longer time to open in iOS 8.
Cold-booting the device takes an additional three seconds to complete in iOS 8.
Despite the sluggish performance of the iPhone 4s with iOS 8, the transparency and translucency UI effects seem to be well under control, besides a stable battery-life performance.
On the flip side, animations are noticeably more choppy and inconsistent in iOS 8 than in iOS 7 for all iPhone devices running on Apple's A5 SoC.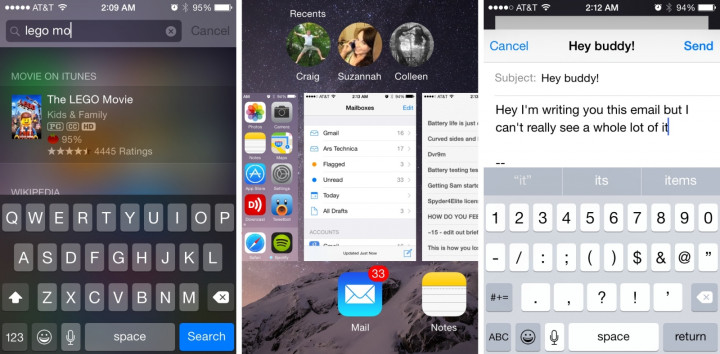 Another drawback with running iOS 8 on iPhone 4s's smaller 3.5in screen is the lack of screen space for rendering the iOS 8's new predictive keyboard while stock apps like Mail, Messages and Spotlight look cluttered with constrained manoeuvrability on the smaller screen.
ArsTechnica confirms that the issues outlined for iPhone 4s running iOS 8 could not be reproduced with newer models such as iPhone 5 and iPhone 5s.
Consequently, iOS fans are encouraged to install new iOS 8 upgrade on any iPhone launched after the iPhone 4s to avoid these limitations.