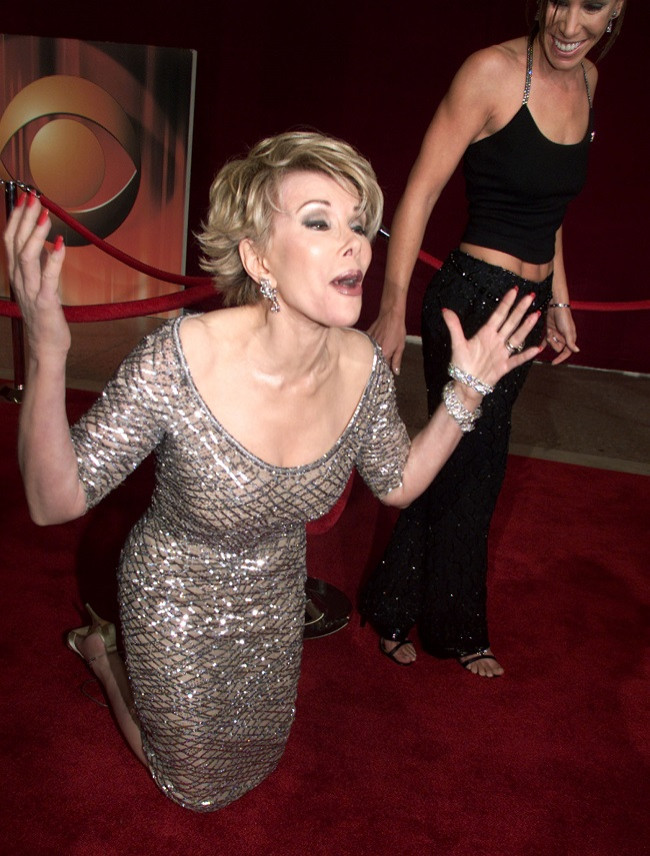 A US website is reporting the news that TV personality Joan Rivers will be taken off of life support today (4 September)
Joan Rivers stopped breathing during minor throat surgery on her vocal chords at a New York City medical facility last Thursday.
She was admitted to Mount Sinai Hospital, where it was determined that she had suffered cardiac arrest and a subsequent stroke.
She was placed on life support, and while initial reports suggested she was comfortable, it's believed that she is now reliant on the machine to keep her alive.
According to Blind Gossip website, the family of the Fashion Police host will now have to consider turning off her life support if her condition does not improve.
Her daughter, Melissa Rivers, who has remained by her mother's bedside in the intensive care unit for a week is now arranging for the TV personality's close friends to and family to say their final goodbyes.
The US site reported that on Tuesday and Wednesday, family members, friends, and work colleagues, including the president of E!, came to say their goodbyes in person.
While the mood was sombre, people shared their fond memories of the star, providing support and comfort to Melissa and her son Cooper.
Rivers is famed for her acerbic wit and sniping rhetoric and is rarely far from controversy.
She is notorious for lambasting even A list celebrities and was blasted for brazenly saying that Kim Kardashian and Kanye West's baby daughter North was "ugly."
In 2013, she faced a backlash from the Jewish community for making jokes about the Holocaust and once compared supermodel Heidi Klum to a Nazi.
Rivers, who is Jewish, defended her comments saying: "This is the way I remind people about the Holocaust. I do it through humour."