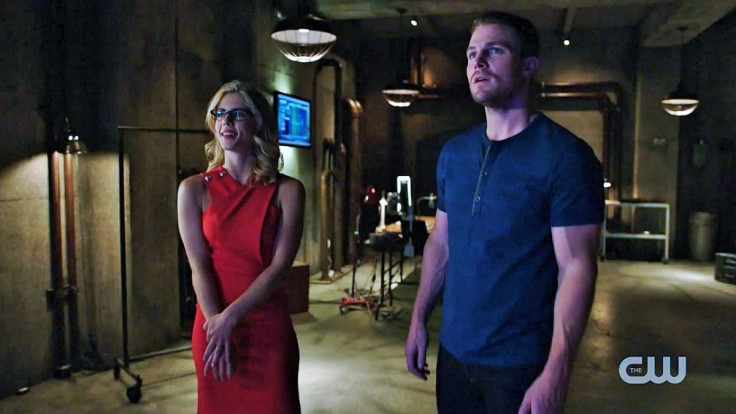 Will the upcoming episode 9 of Arrow season 4 top last year's (season 3) mid-season finale? The spoilers certainly seem to suggest so. The episode titled Dark Waters is expected to end on a pretty dark cliffhanger and may also reveal the mystery behind the funeral scene in episode 1.
The official synopsis for Dark Waters reads; "After the city is attacked again, Oliver (Stephen Amell) makes a bold move against HIVE. Malcolm (John Barrowman) checks in on Thea (Willa Holland) and leaves her with a warning. Things take a horrible turn when Damien Darhk (guest star Neal McDonough) retaliates in a brutal manner at Oliver's mayoral holiday party."
What might this brutal retaliation involve? The episode's promo reveals that Darhk goes after Oliver's loved ones — putting Thea, Diggle and Felicity in a gas chamber. "As long as they're alive, you have something to fight for. That's what I am taking away from you," the villain says in the preview clip.
The video ends with Felicity gasping for breath inside the chamber and telling Oliver that she loves him. Check out the promo below:
Rumours of Felicity dying in the mid-season finale started circulating post the Arrow season 4 premiere which featured the mysterious flash-forward scene showing Oliver and Barry Allen at a funeral. From the looks of it, these rumours might just turn out to be true.
But Olicity fans shouldn't worry... after all, the makers seemingly killed off their male lead last year in the midseason finale and we know how that turned out. With things like the Lazarus Pit, Constantine and time travel existing in the DC TV Universe, they can't keep a character dead for too long.
Arrow season 4 episode 9 airs this Wednesday, 9 December, at 8pm ET/PT on The CW. You can click here to watch the episode online.