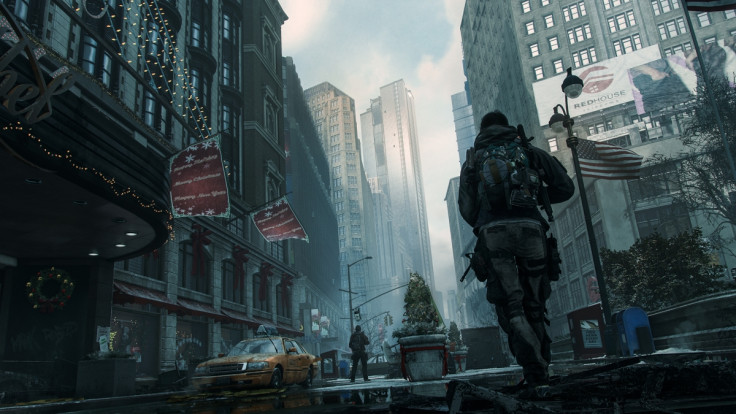 Ubisoft has released a stunning new launch trailer for its popular shooter Tom Clancy's The Division's "Incursions" update set to rollout today (12 April), giving gamers a glimpse of the Falcon Lost incursion that pits Division Agents against the LMB in a water treatment facility.
The two-minute video showcases some of Update 1.1's most-anticipated features, including the game's first incursion (Ubisoft's version of a raid), loot trading, Dark Zone supply drops and a host of new gear sets and exotic weapons.
Featuring explosive cinematic elements and snippets of gameplay from the title's Falcon Lost incursion, the video also reveals what Daily and Weekly Assignments will look like and how loot trading and Dark Zone supply drops will work. The title's new gear sets and exotic weapons will include Tactician's Authority for Support-based players, Sentry's Call for Snipers, Path of the Nomad for Survivalists and Striker's Battle Gear for tank build characters.
The French developer has also released an infographic revealing some key stats achieved since the game's worldwide release on 8 March. Despite the fact that the game is built primarily for multiplayer, 57.2% of players prefer running solo and heading off on their own, according to Ubisoft. The most popular primary weapon in the game is the classic AK-47.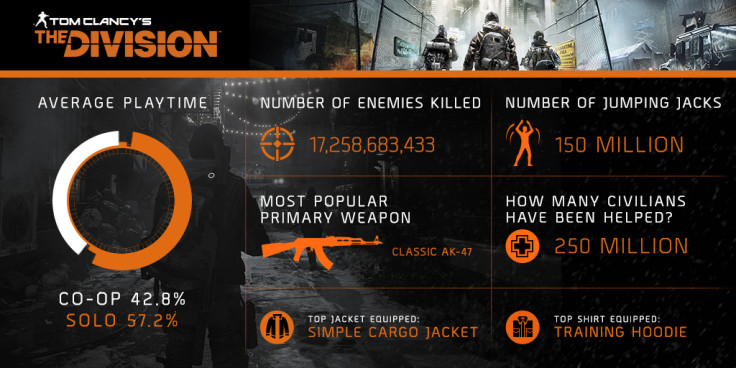 During a recent community podcast, Mathias Karlson, lead designer on The Division, admitted that Falcon Lost is so challenging that no one in the studio has been able to best it on its hardest setting.
"I have not beaten it on Challenge mode," Karlson said. "It needs to have been beaten once by one team [at the studio] for it to be published, just so we know it can be done."
Division's Andrada Greciuc added: "We tried to beat it for an entire day. We tried to beat it, I think, six times. I know we beat it when there was an exploit. We haven't tried that after that bug was fixed."
The new incursions update is the first free patch for the Division since its release and won't be its last. In May, Ubisoft will release another free update called Conflict that will include a new incursion, among other things. A series of free expansions — Underground, Survival and Last Stand — will also be released later in the year. For the first two of the three paid expansions, Xbox One owners will have 30-day exclusivity.
The wildly popular online multiplayer, post-apolcalyptic New York shooter sold more copies on its launch day than any other game in Ubisoft's history. It also set a new record for total digital full game sales in a single day across PC, Xbox One and PlayStation 4.
Division servers will go down for maintenance for three hours at 8am BST, 3am EST and 12am PST. Update 1.1 will go live as soon as the servers are up and running again.
Tom Clancy's Division is available now on Xbox One, PS4 and PC.