Watch Star Wars Rebels season 2 episode 1 live online: Clone Wars team joins Ahsoka, Ezra and Kanan's crew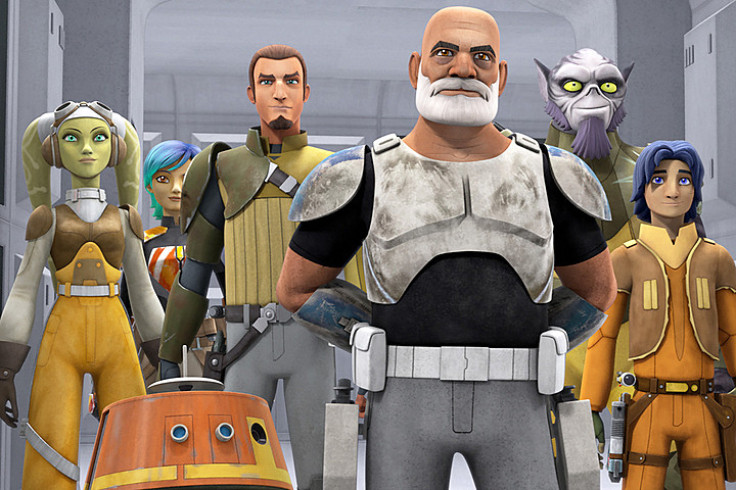 After its hour-long TV premiere back in June, Star Wars Rebels season 2 returns with a new episode this Wednesday, 14 October at 9.30pm on Disney XD. Episode 1 is titled, The Lost Commanders, where many characters from The Clone Wars will join forces with the rebel team.
The official synopsis reads as follows: "Ahsoka sends the Rebel crew to find and recruit a war hero to their cause." In the episode, Ahsoka gives the ghost crew a Tactical Droid head and tells them to go to the Cello system to find her 'mysterious ally'. When they arrive there, Kanan finds out that Ahsoka's 'allies' are clones, whom he dislikes because of Order 66. Eventually, Kanan trusts them until they use Zeb to 'hunt' for Joopers, and Ezra figures out that Zeb is the bait for the Joopers.
Click here to watch the episode via live stream. You can also watch the episode online on the Disney website. A new promo shows Ezra introducing himself and the rest of his compatriots to the clones, who identify themselves as Captain Rex and commanders Gregor and Wolffe.
"My name is Ezra, this is Kanan, that's Sabine and Zeb. It's nice to meet you 7567," says Kanan, adding, "We were sent by Ahsoka Tano."
"I fought by her side in the battle of Christophsis, to the siege of Mandalore, and a friend of hers is a friend of mine," claims Captain Rex.
After the rebel team's close encounter with Darth Vader, the Empire is actively trying to hunt the rebel crew down. But with enemies rising, the rebels have more allies too, as many characters from The Clone Wars will join the ghost crew.
© Copyright IBTimes 2023. All rights reserved.