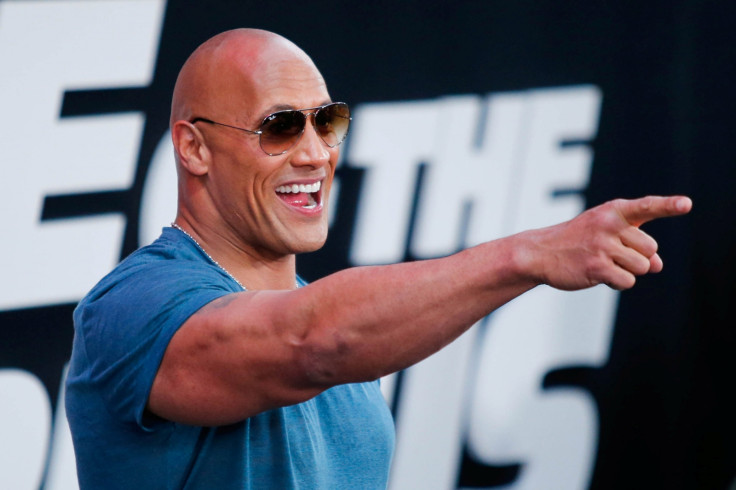 There are the kinds of fans who make sure to catch each and every movie you ever make and then there are the kinds of fans who sit by the road with a giant cutout of your face. Dwayne Johnson came decided to meet one from the latter group and shared his encounter on Instagram.
In the video posted on 31 August, The Rock made a quick pit-stop while on his way home from a hectic work day. "It's almost 1am and I just worked a hell of a 16-hour day... and apparently there's a fan right up here... he's holding a big picture of my face," the actor narrates while driving.
"He's been out here apparently for three days... now he finally caught me. We're gonna have a little bit of fun," he added.
Johnson then drives up to the man sitting outside the Vancouver studio where the actor was filming, holding a four-foot tall cardboard cut-out of his face.
"What's up buddy?" the Baywatch star says as he rolls down his window to say hello to the man.
"So here's the thing, I'm real tired. How about we just come back tomorrow?" Johnson teases before asking the fan about the cut-out. "Well, I printed it myself, yeah," the man who goes by the moniker Mr Excellent responds.
"Ah, good. Well, it sucks. Goodbye!" Johnson jokes back before offering to sign the giant face.
"I'm a grateful and lucky SOB to have the greatest fans in the world," he later wrote in the video's caption.
The man uploaded a selfie with the Fast & Furious actor which he shared on his social media accounts and website. "Sure, MrE waited outside the studios for a long, long, long time. And yes, he did have to jigsaw puzzle 20 plus 8.5x11 pieces of paper to make the giant head," he captioned the post.
"But it was @therock who took time out of his busy schedule after a full day of filming #SKYSCRAPERmovie to stop for a couple minutes to say hi! He really is as nice as he seems! Thanks for stopping #peopleschamp."