Police have raided a number of properties in connection with the investigation into an alleged paedophile sex ring, including the home of the late Sir Leon Brittan and Britain's most decorated soldier, D-Day veteran Lord Bramall.
The dawn raids, which took place on Wednesday 4 March, took place at Sir Leon's family homes in North Yorkshire and London, Lord Bramall's home in Surrey, and the home of former Conservative MP Harvey Proctor near Grantham, Lincolnshire.
No arrests were made at any of the properties searched.
Officers connected with Operation Midland carried out the raids, which were reported in the Sunday Mirror and online news agency Exaro News.
Operation Midland was set up by the Metropolitan Police to investigate allegations of a child sex ring operating in Westminster in the 1970s and 1980s.
Rumours surrounding Sir Leon had been circulating for years, and he was named as a suspect by Labour MP Tom Watson following the former Conservative home secretary's death from cancer six weeks ago aged 75.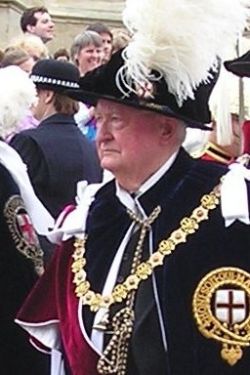 Prior to his death, it was claimed that Sir Leon had been handed a dossier containing evidence of the sex ring by the late Geoffrey Dickens MP and had failed to act.
Sir Leon strongly denied any suggestions he had been involved in a cover-up.
"It has been alleged that when I was home secretary I failed to deal adequately with the papers containing allegations of serious sexual impropriety that I received from Geoff Dickens," said Brittan.
"'This is completely without foundation, as evidence from the Home Office's own report supports."
Lord Bramall, 91, the former head of the armed forces, is Britain's most-decorated soldier. He took part in the Normandy landings and was awarded the Military Cross.
It is unclear why his home was targeted by police.
Harvey Proctor quit parliament in 1987 after revelations emerged that he was involved in spanking session with rent boys aged between 17 and 21. Proctor pleaded guilty to gross indecency. At the time the age of consent for engaging in homosexual sex was 21.
Proctor insists he never attended any of the sex parties and knew nothing about the death of three boys said to have been murdered during orgies.
Asked if he knew about the existence of Operation Midland, Proctor said: "I may not have known the detail of it, but anyone would be blind if they hadn't seen the press relating to these matters over the last year and I find myself in a Kafkaesque fantasy situation."