Cosmetics giant L'Oréal Paris is fighting stereotypes and making history by casting a hijab-wearing woman in its latest hair campaign.
British beauty blogger Amena Khan stars alongside women from all walks of life in the "game-changing" advert, shot by renowned photographer Rankin for the Elvive haircare range.
"Whether or not your hair is on display, doesn't affect how much you care about it," she says in the promo, which shows her standing in front of a pink backdrop wearing a pale pink headscarf.
Khan, who is the co-founder of Ardere Cosmetics, shared the clip with her 571K Instagram followers as well as reminding them of L'Oréal Paris's efforts to change the representation of Muslim women within the beauty industry.
"A game-changing new campaign!!! ❤️ So... lately I've had a complex relationship with my hair feeling lacklustre. When I take off my scarf, I want my hair to be more radiant - don't we all? ‍♀️✨
"I'm so excited and incredibly proud to announce that I'm part of the new L'Oreal Paris Elvive World of Care Campaign which showcases Elvive's breadth of products catering to a wide range of demanding hair types.
"I'm The Pink One which has been specially formulated for dull hair to boost shine."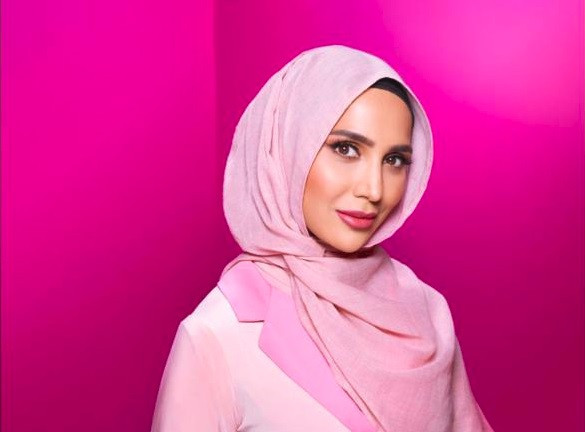 Who is Amena Khan?
Khan hails from Leicester, where she lives with her husband and children. She is said to be in her early thirties.
As a Muslim woman who has been wearing a headscarf in public for years, she appreciated the importance of mainstream representation "How many brands are doing things like this? Not many," Khan told Vogue UK. "They're literally putting a girl in a headscarf ― whose hair you can't see ― in a hair campaign. Because what they're really valuing through the campaign is the voices that we have."
While L'Oreal Paris has made tremendous strides toward inclusivity, Khan is no stranger to the beauty industry. Back in 2017, she appeared on daytime talk show Lorraine, where she provided make-up enthusiasts with some tips and tricks on how to get the perfect glow.
When she isn't busy challenging the patriarchal interpretations of her faith, she is a building an empire. She is a L'Oréal Glam Squad Ambassador, Youtuber and runs her own business.