Wileyfox is yet another new smartphone company which is looking to get a slice of the multibillion pound market dominated by Apple and Samsung. And while it faces an major uphill struggle to even make a mark, it does have a couple of tricks up its sleeve.
The first is Cyanogen, the software built on top of Google's Android that offers a high level of customisation along with enhanced privacy and security settings. The second is price, with the company's first smartphones costing just £129.
The company, which is headquartered in London and led by former Motorola UK general manager Nick Muir, will launch two smartphones in the UK, Europe and the Middle East in the coming weeks with the Wileyfox Swift featuring a 5in screen, 13 megapixel camera and costing £129 and the Storm featuring 5.5in screen, 20MP camera and costing £199.
Wileyfox Swift specs
Cyanogen 12.1
5in display (1280 x 720)
13MP/5MP camera
16GB with microSD
Dual SIM
Price: £129
The company is backed by the same people who launched the Kazam smartphone brand a couple of years ago, which has struggled to get a foothold in the market, but Muir believes Wileyfox will be different by offering something you don't get from the plethora of Android smartphones on the market:
Wileyfox Storm Specs
5.5in display (1920 x 1080)
Cyanogen 12.1
20MP/8MP cameras
32GB with microSD
Dual SIM
Price: £199
"Our target customer values choice, security and reassurance. These savvy individuals do not want their data made available beyond their control. They want to be able to change the appearance of their screen, beyond just the wallpaper and lock-screen. They want efficient, personalised shortcuts and gestures. They want friendly, helpful 24/7 customer service. And above all they want great quality, premium handsets with the latest technology. Responsive, well-built, reliable, quick-charging handsets with great battery life. And that's what Wileyfox is all about."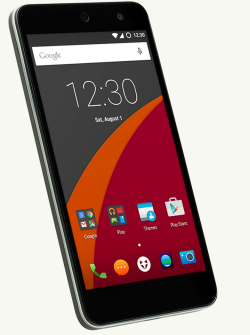 The obvious comparison to make is with the Chinese startup OnePlus which started out using Cyanogen on its smartphones with significant success before migrating to its own version of Android called Oxygen OS.
Muir told IBTimes UK at the launch in the UK that while the comparison with OnePlus was understandable, he said Wileyfox would be offering something different, and at £129, the company's Swift smartphone costs almost half the price of the OnePlus 2. However Muir did admit that he used a OnePlus smartphone to test out Wileyfox's software when the company's own hardware wasn't quite ready.
The use of Cyanogen OS is a key selling point for this phone and the company's CEO Kirt McMaster was in London for the launch indicating that strategically, the partnership with Wileyfox is an important one for the Silicon Valley company. McMaster said that despite the huge interest in the Cyanogen platform - it has major backers like Microsoft, Twitter and Andressen Horowitz - it hasn't really spoken about what the possibilities for the platform are yet.
"The integration of services into the OS that doesn't exist in the app world [of Android and iOS]; we think this will drive users in not only emerging markets but mature markets as well as we give rise to a new class of experience on top of the platform."
One example of the type of services which McMaster is talking about is Trucaller which is integrated into the Cyanogen dialler app and lets you identify in-coming calls from numbers not in your contacts. These type of integrations, McMaster says, drives up engagement by 75%. There are a lot more planned for the next six months which he hopes will propel the company into the mainstream.
With the emergence of brands like Wileyfox and the multitude of brands in the Asia-Pacific region, we are seeing the commoditisation of hardware, says McMaster, and that offers his company a big opportunity: "We believe that that commoditisation coupled with a new class of experience that we bring to the table will enable us to differentiate from Google Android and iOS."
First impressions
The phones themselves are reasonably well designed with an attractive finish, though both feel more lightweight that you might imagine. This may be down to the fact that both phones feature a rather small 2,500mAh battery which could indicate problems in this area. Cyanogen says its software is tuned to increase battery life, but particularly on the 5.5in Storm, Wileyfox could face some criticism - though we will have to wait to test the phones out fully before giving a final verdict.
Cyanogen 12.1, which is the version loaded on the phones from launch, offers access to all of Google's mainstream services as well as the company's own additional features including its highly popular Themes store which allows users to download paid for and free themes to customise the look of their phones.