Wirathu's 'Buddhist Woman Raped' Facebook Post Stokes Anti-Muslim Violence in Mandalay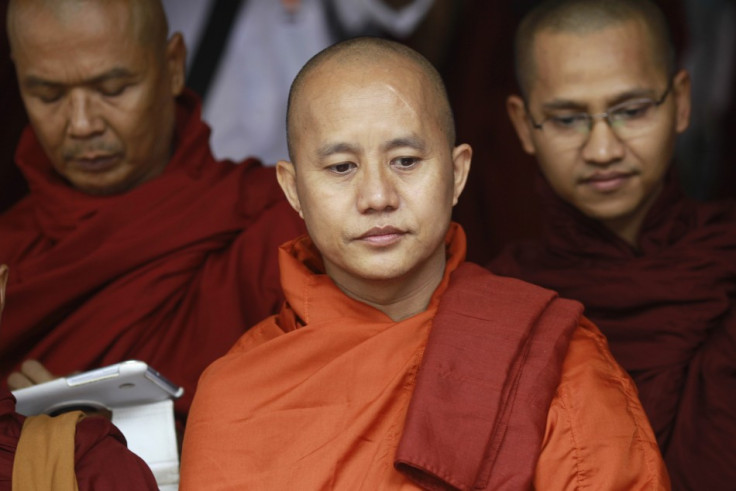 A Buddhists mob has clashed with Muslims in Myanmar's second largest city of Mandalay after monk Ashin Wirathu - the self-styled Burmese bin Laden - shared claims that a Buddhist woman had been raped on his popular Facebook page.
More than 600 officers have been deployed in an attempt to control an angry crowd of about 300 Buddhists, including 30 monks, who started throwing stones, rocks and bricks near a tea shop owned by a Muslims man. Police fired three rubber bullets in an attempt to control the crowd, which went on a rampage against Muslims shops and vehicles.
Five people have been injured in clashes. Muslim shops were damaged and the windows of a mosque were smashed.
Mandalay police confirmed in a statement that a charge of rape had been filed against the tea shop owner.
Rumours that a woman was raped while travelling to Naypyidaw with her employers spread on social media on 28 June. The owner of the Mandalay teashop told reporters that his two brothers had been charged with rape and that police were searching for them.
At that point, Wirathu, leader of the controversial 969 nationalist movement shared the story on Facebook adding that he called the owner of the teashop saying that his brother will have to face justice.
Violence against Myanmar's Muslims has intensified over the past two years, incited by extremist monks and the virulent anti-Muslim '969' campaign, which espouses hate and urges Buddhists to boycott Muslim businesses.
Much of the sectarian violence has taken place in the western Rakhine state, where clashes between Buddhists and Rohingya Muslims in 2012 left about 200 people dead and tens of thousands displaced.
In January, Burmese police set fire to at least 70 Rohingya homes in the village of Du Char Yar Tan, where at least 48 Muslims were said to have been killed by a Buddhist mob.
Buddhists also attacked international aid workers in the Rakhine state capital Sittwe, forcing them to find refuge at a local police station.
© Copyright IBTimes 2023. All rights reserved.