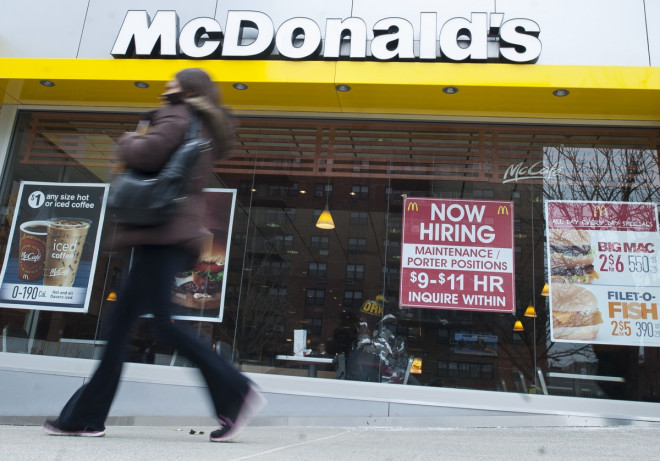 Fast food giant McDonald's is facing allegations of "stealing wages" in three US states.
Workers have filed law suits in New York, California and Michigan against the firm and several franchise owners.
The employees allege that they were not paid for overtime, that they were illegally underpaid and that they were forced to work off the clock.
The seven class action law suits come as fast-food workers in the US and the Service Employees International Union (SEIU) continue to run a year-long campaign to pressure chains to raise wages to $15 (£9.03, €10.82) an hour.
Joseph Sellers, a national employment rights specialist of Cohen Milstein Sellers and Toll, said: "Despite reaping tremendous revenues and profits thanks to the labours of crew members who earn at or just above minimum wage, McDonald's is unlawfully failing to pay its workers for all the hours they work and for necessary expenses they incur relating to the uniform McDonald's requires them to wear.
"Not only do its practices cause a substantial financial burden for McDonald's workers, they violate state and federal minimum wage laws as well as other state labour laws."
A McDonald's spokeswoman said: "McDonald's and our independent owner-operators share a concern and commitment to the well-being and fair treatment of all people who work in McDonald's restaurants.
"We are currently reviewing the allegations in the lawsuits. McDonald's and our independent franchisees are committed to undertaking a comprehensive investigation of the allegations and will take any necessary actions as they apply to our respective organisations."
The news comes after President Obama used his weekly address to appeal to congress to make progress on increasing the minimum wage to $10.10, up from $7.25 an hour.
The Obama made the plea following strong labour market figures from the Bureau of Labour Statistics, which revealed that the world's largest economy had added 175,000 jobs in February despite dismal weather.
The boost comes as the political debate in the US is going to hot up ahead of the 2014 midterm elections in November.