The third quarter of 2014 was when Xiaomi, a Chinese smartphone startup few on this side of the globe will have heard of, grabbed headlines by becoming the world's third biggest smartphone manufacturer, sitting on the podium next to major players Samsung and Apple.
Fast forward three months however, and the reality of the competitive smartphone market will be very clear to Xiaomi.
The company has dropped to sixth spot among smartphone manufacturers in the final three months of 2014 according to the latest results from Strategy Analytics, which places Samsung and Apple joint top having sold 74.5 million smartphones each.
According to research from CounterPoint however, Xiaomi only dropped to fifth place during the fourth quarter of 2014, but either way it will be a wake-up call to a company which was recently valued at $45 billion, making it the most valuable startup in the world.
China challenge
What will be even more worrying for Xiaomi is the fact that CounterPoint figures show that Apple is now the number one smartphone brand in China, with a 17% share in Q4 compared to Xiaomi's 13% share.
Xiaomi surpassed Samsung last year to take the top spot in China, its home territory and the place where its most fanatical customers live.
As well as Apple, Xiaomi faces increased competition in China from Lenovo and its newly-acquired Motorola brand. Lenovo is now the world's third biggest smartphone manufacturer thanks to the inclusion of sales of its Moto-branded smartphones.
The company is making a renewed push in China, which it calls "the biggest and most exciting smartphone market" and just this week launched the Moto X, Moto G and Moto X Pro smartphones in the country, playing up the fact that these are the first phones to launch with Android 5.0 (Lollipop) installed.
"Golden age coming to an end"
"Lenovo-Motorola and Apple have rapidly upped their game in China and worldwide, and they are starting to chip away at Xiaomi," Neil Mawston, executive director of Strategy Analytics, told Bloomberg. "The 'golden age' of easy growth for Xiaomi is coming to an end."
2014 was a break-out year for Xiaomi. It saw its share of the smartphone market jump from 2.6% to 4.7% with smartphone shipments jumping from 18.7 million to 61.2 million.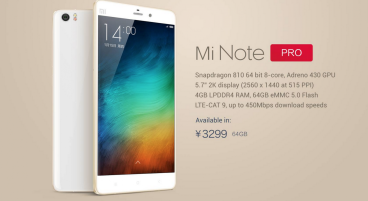 This was in part thanks to its expansion beyond China, and the company now sells in more than seven other territories, with India being the second most important market for the company.
The question for 2015 will be whether Xiaomi can push on again and regain the ground it has lost to Lenovo and Huawei in the final three months of 2014.
To do this, Xiaomi launched its flagship smartphones for 2015 earlier this month - the Mi Note and Mi Note Pro - with initial stock of the Mi Note selling out in just three minutes when it went on sale this week.
Russian expansion
What will also be key for Xiaomi is launching its smartphones in other territories. The company has said that its goal for 2015 is to launch its smartphones in emerging countries, with Brazil and Russia top of the list.
According to a report by Bloomberg this week, Xiaomi is close to finalising a deal with Russia's second largest network MegaFon according to a spokesperson for the carrier.
Russia could be a hugely lucrative market for Xiaomi, where the demand for low-price smartphones is growing. The ruble price of Apple's iPhone jumped a huge 70% on the back of currency problems earlier this month.
With over 50% of the country's 140 million population still using feature phones there is huge potential for growth for companies offering premium hardware at a budget price.
The big question is whether Xiaomi will be able to replicate the success it has had selling services through its forked version of Android - called MIUI - in another market, or whether it will have to rely on profits from hardware sales.