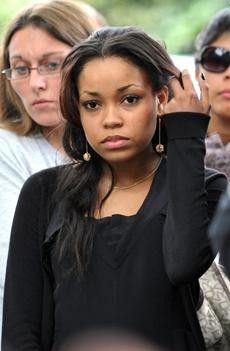 Dionne Bromfield performed an emotional tribute to her late godmother Amy Winehouse at The Big Chill music festival yesterday.
The teary-eyed 15-year-old closed her set with an emotional tribute to Amy - singing Love Is A Losing Game.
Dionne told the crowd: "She was an amazing singer. She was not only my godmother, but she was my mentor and my boss as well."
She sang Remember Our Love, Yeah Right and covers of Cee Lo Green's hit Forget You and the Shirelle's Mama Said - Dionne's first single.
Saturday night headline act Kanye West also played a medley of her songs in tribute to the late star.
He said: "I was at Paris fashion week a few years ago with my fiancée at that time.
"We went to a house party and I met this beautiful, amazing, talented and funny woman. This is in memory of her."
Winehouse, 27, was found dead at her flat in Camden on July 23.
Amy Winehouse's cause of death has been listed as "unexplained," pending toxicology results due in two weeks. Although many believe that drugs and alcohol were contributing factors in the singer's death.
Follow Zara Bokhari on Twitter: @zara_bokhari