The notion that Angelina Jolie and Brad Pitt are reconciling during their divorce proceedings have set rumour mills aflame.
HollywoodLife, however, has reported that, although the Maleficent star will always have feelings for her former husband, she does not want to get back together as she has "too many scars" from when things got really bad between them. The couple are also said to not be reconciling as they share a "lot of resentment" towards each other that stems, directly, from their divorce and custody battle.
"Part of Angie will always love [Brad], and yes she's even thought about reconciling. There are obviously a lot of good reasons for them to get back together, especially for the kids. But Angie still has too many scars from their bad times. There is still a lot of resentment on both sides. Brad was deeply wounded by the whole split and custody situation so any thought of reconciliation right now is not happening," a source told the gossip news website.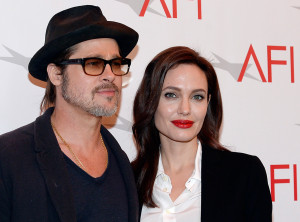 "Her time with Brad was by far the deepest, most fulfilling relationship of her life. Those feelings didn't just stop the day she left," the source added.
This comes after an earlier report from E! News claimed that Jolie was having "regrets" about how she handled her split from Pitt. "Angelina regrets the way she handled certain things and wants to be at peace with Brad," a friend of the pair told the celebrity news website.
The report went on to say that Pitt feels his former wife is to be blamed for their divorce and custody drama coming out in the public eye.
"Brad is way too upset still. He blames Angie for how public everything became," another source said. "He knows that eventually it is best to forgive her and be on good terms for the sake of the children but he feels let down in a way he never thought was possible. He saw a different side of her and he can't forget. The way everything went down has been beyond comprehension."
Jolie and Pitt ended their 12-year relationship after she filed for divorce in September 2016, following an alleged mid-flight altercation involving the latter and their 15-year-old son Maddox that led the FBI to investigate the incident. The Allied star was later cleared of the allegations. The former couple share six children – Shiloh, Maddox, Knox, Vivienne, Zahara and Pax.