Apple's Black Friday deals are some of the most anticipated of all special offers, but it looks like customers in the UK and across Europe could be set to miss out, while US customers will be rewarded with gift cards.
According to the often reliable French website MacG, there will be no special offers from Apple in Europe either online or in-store which will mark a significant change in Apple's policy here. Last year Apple offered discounted prices for UK customers on a range of products.
In the US, Apple will as usual offer a range of gift cards to customers buying iPhones, iPads and Macs online and in-store (see below for details) but it seems that in the UK the only difference this Friday will be that Apple will donate a portion of its earnings to the RED Aids charity, which it outlined earlier this week.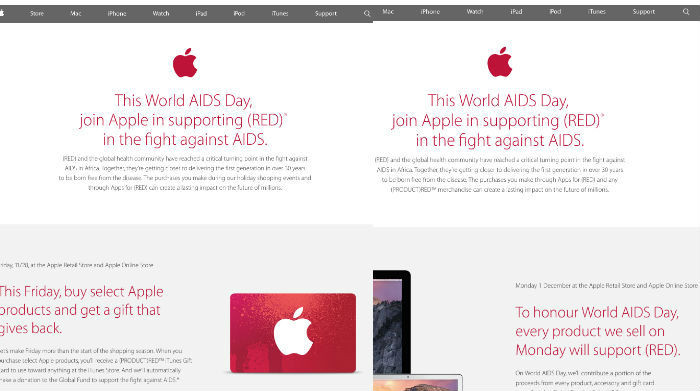 If you look at Apple's online stores (above) in the US and UK it is clear to see the Black Friday deals being advertised in the former while only the RED campaign is mentioned in the latter. MacG sources say:
There will be no deals tomorrow (on Black Friday) in Apple's [online] store in France (and Europe by extension) and not in Apple stores.
However, while Apple may not be offering any special discounts, there will be ample opportunity elsewhere to bag iPads, iPhones and Macs at discounted prices. The best way to monitor all the deals is on our Black Friday Deals Live Blog.
Apple Black Friday Deals - US
Apple won't be discounting the price of its iPhones or iPads this year in the US, but it will be offering iTunes gift cards to those who buy certain products on the day.
Here is a full break down of which devices qualify for the special RED Gift Card, and how much it will be worth:
iPhone ($50) (SIM-free products only)
iPhone 6 Plus
iPhone 6
iPhone 5s
iPhone 5c
iPad ($50)
iPad mini 3
iPad mini 2
iPad mini
iPad Air 2
iPad Air
Mac ($100)
iMac
MacBook Pro
MacBook Air
iMac with Retina 5K display
MacBook Pro with Retina display
iPod ($25)
Apple TV ($25)
Beats by Dr. Dre ($25)
Beats headphones
Beats speakers