While Indians and Hindus in particular kicked off Diwali celebrations over the weekend, in the US they were join by President Barack Obama. Having become the first US president to celebrate the festival at the White House back in 2009, this year, Obama lit a diya (oil lamp) in the Oval Office and posted a Facebook message to greet devotees on the occasion.
"To all who are celebrating the festival of lights across America and around the world, happy Diwali. As Hindus, Jains, Sikhs, and Buddhists light the diya, share in prayers, decorate their homes, and open their doors to host and feast with loved ones, we recognise that this holiday rejoices in the triumph of good over evil and knowledge over ignorance," he wrote.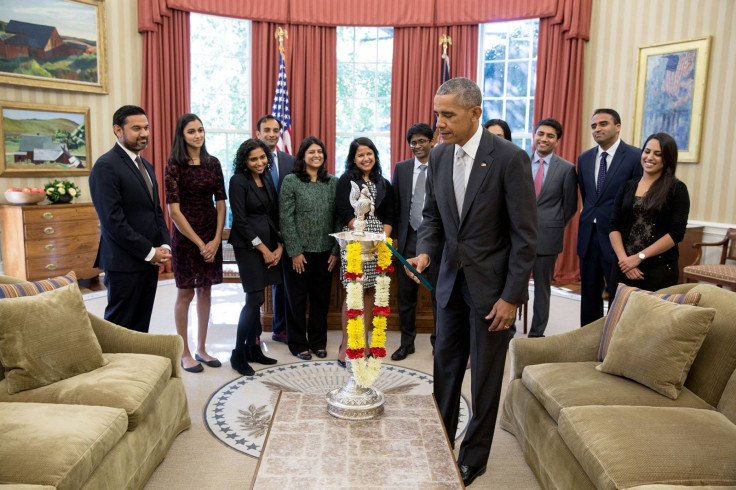 "It's a reminder of what's possible when we see beyond the differences that too often divide us. It's a reflection of the hopes and dreams that bind us together.
"I was proud to be the first President to host a Diwali celebration at the White House in 2009, and Michelle and I will never forget how the people of India welcomed us with open arms and hearts and danced with us in Mumbai on Diwali. This year, I was honoured to kindle the first-ever diya in the Oval Office - a lamp that symbolises how darkness will always be overcome by light. It is a tradition that I hope future Presidents will continue."
Obama went on to stress the need for people from different communities across America to be more tolerant and understanding of each other. "On behalf of the entire Obama family, I wish you and your loved ones peace and happiness on this Diwali," he wrote in conclusion.
President-hopeful Hillary Clinton also released a statement on the occasion, promising to continue Obama's tradition of celebrating Diwali at the White House if she emerged victorious. "Regardless of our personal faith, Diwali reminds us that diversity is one of our greatest strengths as a nation," stated in a message on her Twitter account.
Up north in Canada, Justin Trudeau who is extremely popular within the Indian-Canadian community shared a festive video message in which he also wished the country's large Sikh population on the occasion of Bandi Chhor Divas (Day of Liberation) – a festival which happens to coincide with Diwali.
Meanwhile, the UN Headquarters in New York chose to light up during the festival with a diya (traditional lamp) and greetings were projected on its building.