Bella Thorne accuses Perez Hilton of slut-shaming: 'You want more people to pick on me'
Former Disney star got into heated exchange with blogger after he shared her topless snap.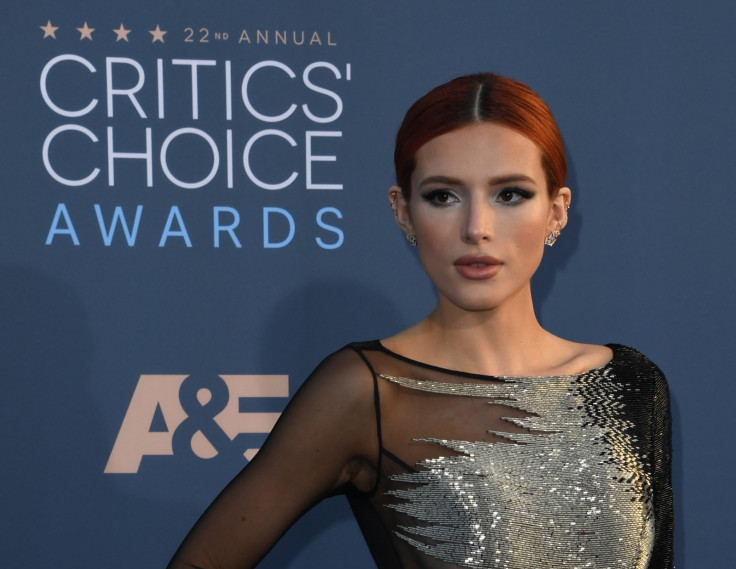 Bad girl former Disney child star Bella Thorne has accused Perez Hilton of orchestrating a slut-shaming campaign against her.
The drama kicked off on Twitter after one of Thorne's fans called out the celebrity blogger for posting a revealing and less-than-flattering snap of the actress on his social media along with the caption: "Fill in the blank!"
Twitter user @J1inx1 claimed that Hilton was being malicious, writing: "Remember when @ThePerezHilton pledged to be kinder? But he's still out here trying to pass his body shaming and insults as "opinions" #fake".
The father of two soon hit back insisting that he was not body shaming the 19-year-old starlet, but @J1nx1 explained that by sharing the image "with a fill in the blank because you knew people would body and slut shame her. Same thing."
It didn't take long for Thorne to catch a whiff of the online spat as her devoted fan went toe-to-two with Hilton. Taking to Twitter to defend herself, she expressed her disappointment in Hilton in a series of posts that revealed that she was saddened by the barrage of abuse she constantly faces.
Thorne −who was said to have enjoyed a brief romance with Kourtney Kardashian's ex-partner Scott Disick − is best known for her role as CeCe Jones in the Disney Channel show Shake It Up. She is currently the lead in series Famous in Love where she plays Paige Townsend. Since ditching her child star image, the social media queen has been sharing her metamorphosis with her 16 million plus followers.
"Honestly I don't. You know I love you p but I think it's kinda rude to use the pic my shirt is riding up and I'm in the middle of talking," Thorne wrote. "Esp when there's a lot of great photos. Kinda seems like you want more people to pick on me. :( if I wasn't sad enough about it already."]
The comment section of his posts was littered with derogatory phrases like "trashy" and "slutty".
She went on to add that she found it troubling that he had tagged a handful of her exes including Charlie Puth, Gregg Sulkin, and Blackbear in a bid "start drama and trying to make me feel disgusting..like they own my body," she wrote.
Sensing he had upset, her he tried to pacify the situation by claiming the tagging was so simply so to help with search. Although he eventually apologied, he expressed little remorse, saying he would "do it again".
Incensed by his response she replied:"I hope no one does this to your daughter ✋️"
© Copyright IBTimes 2023. All rights reserved.